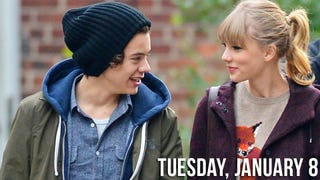 Nothing gold can stay, including Taylor Swift and Harry Styles' brief foray into exclusivity. New reports claim that Haylor has ended their 65-day-and-one-Press Baby relationship after a disastrous New Year's Eve in the British Virgin Islands. As the Daily Mail quaintly puts it, the two "had an almighty row," after…
Lindsay Lohan reportedly has a "new love interest": a woman named Eilat Anschel, who recently finished a mandatory stint in the Israeli Defense Force. [TMZ]
Lady Gaga's ex-boyfriend, songwriter and producer Rob Fusari, has filed a $30 million suit against her.
Sean Penn: Lousy gay lover! Diego Luna was asked about kissing Sean for Milk and said, "It was...dry." He added: "I guess he was thinking about Franco." But costar James Franco claims kissing Sean was "fine." Not hot, steamy, fun. Fine. [E!]
Britney's youngest son, Jayden, has been released from the hospital. He was…
Hollywood Elsewhere's resident crank Jeffery Wells wondered earlier this week if Michael Cera's in part because he plays the same role over and over again. While I'm excited to see Cera in when it hits theaters Friday, I have to concur that he is playing the same hypersensitive, passive, awkward semi-loser that he…
Teh hotness Diego Luna is a
proud papa!
His wife, fellow Mexican actor Camila Sodi, gave birth to a baby boy in L.A. yesterday. • Unbeweavable news: Tyra is walking around with Oh, Ty Ty! Your follicular choices will never cease to entertain us! • [, ]
Angelina Jolie and Brad Pitt to wed? Finally? Now that she is preggo with twins? OMG! [MSNBC]

Did Britney get married when she went to Mexico last month? Maybe! Of course, her man, Adnan Ghalib, is already married. But! Wedding documents exist! Says a source. [Gatecrasher]

Meanwhile, Britney seems to have made up with…