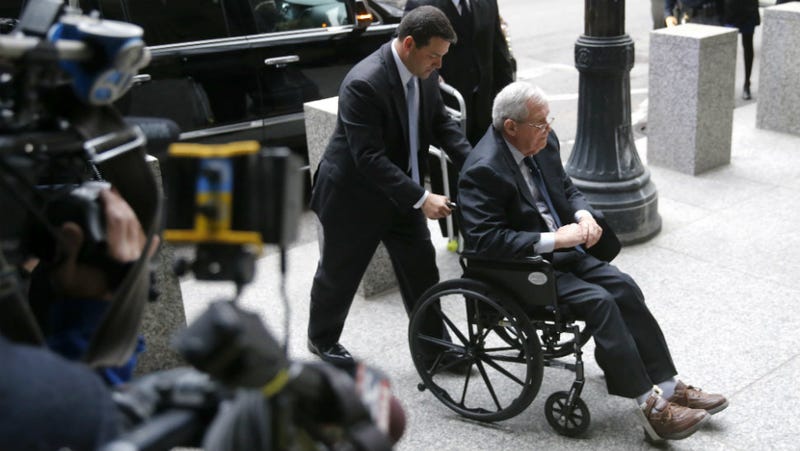 In a sentencing hearing Wednesday morning, former House Speaker Dennis Hastert acknowledged having sexually abused several boys while he was their wrestling coach in the 1970s. The judge described him as "a serial child molester," then sentenced him to two years of supervised release. Later in the hearing, he added 15…
On Monday, one of the five people prosecutors say former Speaker of the House Dennis Hastert sexually abused filed a lawsuit claiming Hastert failed to pay off a secret $3.5 million dollar settlement, ABC News reports.
Former Speaker of the House Dennis Hastert pleaded guilty last October to one count of illegally structuring bank withdrawals, and will be sentenced to up to five years in prison by a federal judge later this week. But behind this technical-sounding crime is something truly horrific: According to the feds, the…
After the Chicago Tribune reported that former Speaker of the House Dennis Hastert paid millions of dollars in hush money to underage victims, four separate people came forward and made public allegations against him. Last week, a federal filing alleged that Hastert had sexually abused five minors while he was the…
In October, former House Speaker Dennis J. Hastert pleaded guilty to bank fraud and lying to the FBI about millions he paid to cover up what an indictment called "prior misconduct." That "misconduct" is widely rumored to be sexual abuse, committed when Hastert was a wrestling coach; the Chicago Tribune now reports…
Lawyers for ex-House Speaker Dennis Hastert told a federal judge this morning that he will plead guilty later this month in a case where he's accused of bank fraud and lying to the FBI. Several media outlets have reported that Hastert is suspected of agreeing to pay a man millions to cover up sexual abuse.
When it was announced Thursday that former House speaker Dennis J. Hastert has been indicted on blackmail charges, nobody had any idea what the hell was going on. The plot has thickened rapidly: Hastert is accused of paying roughly $1.7 million in hush money since 2010, and the L.A. Times is reporting it was to cover…