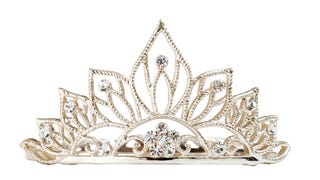 Child beauty pageants are fucked up enough without adding a weird racial dimension to them, but if you're going to be terrible, you might as well be all-the-way terrible, right? The Little Miss Hispanic Delaware pageant — which exists because apparently the world doesn't mess with little girls' brains enough as-is —…
If you're part of the small subset of people who pay attention to both Delaware and the law community in Delaware, I won't need to remind you who Brian Zulberti is. For the rest of you, Brian Zulberti is a man who likes to put the lawyers of Delaware on blast with emails about how he should be hired that included a…
Christine O'Donnell, meet Krystal Ball, who knows a thing or two about how to play the publication of "embarrassing" photos or material. But judging from O'Donnell's response to the publication of her ladybug-costumed makeout, maybe she already knows what's up.
Meghan McCain, who quite handily parlayed her time blogging for her dad's failed President campaign into a journalism gig and a book deal, said today on ABC's This Week that Senate candidate Christine O'Donnell's inexperience should disqualify her.
Some things you need to know about Christine O'Donnell this morning: She is not really a witch, she's you — and her father is not the ur-Bozo the Clown. Sideshow, anyone?
Number of schools Christine O'Donnell said she attended which never heard of her: Two. Also, two video parodies of her pronouncements on masturbation and pregnancy.
"The woman Democrats love to hate" was how Sean Hannity introduced Christine O'Donnell last night. Correction: Democrats love her, as long she stays 15 points behind. So how'd it go? Well, she's a PR person, and she knows that much.
Last night, batshit family values conservative Christine O'Donnell debated her Democratic opponent, and we heard a little more about what she believes. Only a little. Also, a little light's shed on why her lesbian sister is supporting the anti-gay candidate.
The new Republican candidate for Senate in Delaware is known best for her positions on sex: She is a devout Catholic, chaste, anti-masturbation, pro-abstinence-only sex ed, anti-condoms and anti-porn. But Christine O'Donnell didn't grow up in a strict religious household.