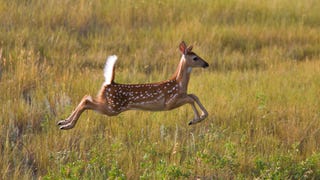 THANKS, OBAMA: our hard-earned tax dollars are now going towards supplying the wanton deer of the New York City suburbs with whore pills. (Side note: if anyone is interested, I'm amenable to developing The Wanton Deer of the New York City Suburbs as a new Real Housewives-esque franchise).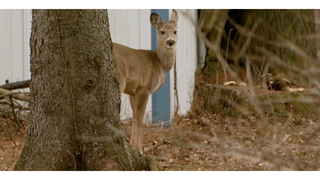 Daisy the deer, why are you so special and sweet?? This lovely lady was rescued by a family in Indiana after her mom was hit by a car. :-( x 100000000. The family nursed her back to health with goat's milk and greens, and now she hangs around and comes when called. I can hardly watch this because all I can think…
Interspecies family alert! Abandoned by her mother, Pippin the fawn was lucky enough to encounter Kate the Great Dane. Kate took an instant shine to the little deer and the two have been looking out for each other ever since. They even play and cuddle! Now, what's a girl got to do to get in on that friendship?
Deers and lemurs love each other, or at least this deer and this lemur love each other. Either that or they met on craigslist after the deer posted the following ad: "Looking to lick a lemur. No recip. necessary. Just want to lick a lemur. With my tongue. I'm in decent shape, so I expected my lemur of choice to be…
Three months or so ago, reports began to surface that a sheep and a deer were carrying on a love affair at a Chinese zoo. Well, yesterday, they "decided" to make it official, and got married in a Valentine's Day wedding ceremony at the zoo. The male sheep, who's called Long Hair, and the female deer, Pure Child,…
You know how sometimes you see shoes looped around a power line and you try to remember all the urban legends about what that stands for? Yeah, well, in Montana a lady saw a dead deer hanging from a power line. Sad. Except then a guy from the power company told her, "Apparently, we've got deer with wings." But that's…
Dillie, a pet deer living with an Ohio family, has to be the most spoiled pet in America. She is fed a nutritious diet of ice cream, linguine and roses, and she even has her own bedroom. More cute: [CBS]
A real, live unicorn was spotted in Italy! Well, sorta. It's actually a baby deer that was born-with a genetic flaw of only having one horn in the center of his head-in captivity in a research habitat in the Tuscan town of Prato. Gilberto Tozzi, director of the Center of Natural Sciences in Prato said that this is the…