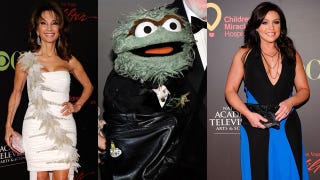 Whether it was metallic fabric, Swarovski crystals, or paillettes, you could've gone blind from all of the glimmering.
As though it weren't tacky enough that Denise Vasi wore a gown covered with sequined lips, she didn't even have the decency to match her own lipstick to it. Considering that she bedazzled her…
On last night's Daytime Emmys, Tyra—who made sure the audience knew that "Executive Producer" is on her résumé—introduced a truly bizarre segment that showcased the "fashions" of soap operas. Susan Lucci's portion was the best.
It's been really hot here in New York. For those of us sans AC, really, really hot. Personally, I've been lounging around in a kimono like something out of a Tennessee Williams play. And one can only assume that "Nikki Midtown", where the 19th Annual Pre-Daytime Emmy Awards Party (or APDEAP, as it's known on my…