A well-known dramatic trope: The four-day R. Kelly "Love Letter" cruise introduced in Act I must go off in Act III.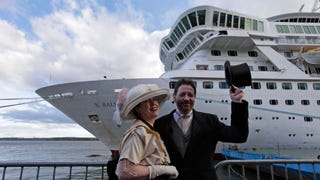 On Sunday, we brought you the story of the MS Balmoral, the luxury cruise liner that is retracing the steps of the Titanic in honor of the 100th anniversary of the original voyage. It seemed like a highly questionable idea from the start, but now comes word that it's already run into difficulties. It departed England…
Have you always wanted to experience the thrill of being on the Titanic but have been afraid of drowning in an icy sea? Well, then it's too bad you didn't book a ticket aboard the ship that's retracing the Titanic's route beginning today. They're skipping the shipwreck part—or so the tour organizers have promised…
Can't wait for the Backstreet Boys/New Kids on the Block tour this spring? This should help tide you over: On Valentine's Day, you can party with your other favorite '90s band on the Boyz II Men "Love Cruise"!
What kind of fuckery is this? Amy Winehouse borrowed some designer dresses. When she returned them, they were splattered with vomit. [Mirror]
Some of the puke-stained dresses had developed furry mold on them. [Hey, I'm eating breakfast, lady! - Ed.] [CelebNewsWire]
Meanwhile, Amy is trying to launch the singing career…