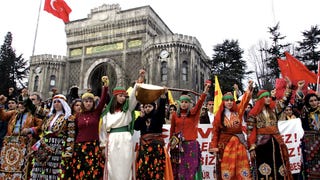 Turkey, formerly eager for an invite into the European Union clubhouse, has drifted away from the continent it has played historical boogeyman to in the wake of the Arab Spring, and gravitated towards the more conservative values of an Arab world it sees an opportunity to dominate. As a result, according to the New…
Media Matters' Political Correction notices that the Republican National Committee's homepage is featuring a blog called "RNCWomen: Obama's Report Card" as a "trending" item among "hot topics." Not that hot — it hasn't been updated in months, and much of it content is devoted to attacking Nancy Pelosi.
Sometimes it can be so hard to get the conservative agenda for sex, marriage, and reproduction straight. Marriage: Good, but not for everyone. Abortions: Bad, but so is preventing them with sex ed and contraception. Babymaking: Good, but only until you crown. The blogger at Rosie Says helpfully provides directions for…
Outside the Kentucky Senate debate last night, several male Rand Paul supporters ganged up on a MoveOn protester, tore off her wig, and stomped on her head. Surely she was asking for it by...protesting peacefully. There's (highly disturbing) video.
James O'Keefe, the ACORN-stinging fake pimp, had a novel idea on how to derail CNN's Abbie Boudreau documentary about young right-wing activists like him: seduce her and make a blackmail-ready sex tape. Wait til you hear about his planned moves.