Lindsay Lohan had a surprise visitor in jail yesterday: ex-girlfriend Samantha Ronson. Should we be hoping for a reunion? [NYDN]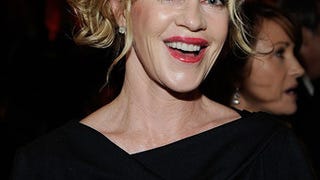 Melanie Griffith's rep confirmed that she has checked into a rehab facility saying, "This is part of a routine plan that was designed between her and her doctors years ago." But sources say husband Antonio Banderas demanded she get sober.
Lindsay Lohan ended a relationship with a woman a month ago and has been accused of being too thin... so clearly she's pregnant. She's also supposedly distraught because she doesn't know who the daddy is.
Brooke Shields is contradicting her own reps, who said she wasn't involved in the Kiefer Sutherland headbutting incident. Now she says she "was bumped into by Jack McCollough and Kiefer Sutherland became concerned."