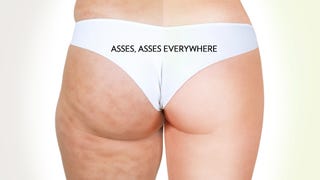 Thanks to the ubiquitous cheeky shorts trend, these days, you can't angrily chuck an iPhone without hitting some teen in the exposed buttcheeks. Some naysayers might say that this is Bad because won't somebody think of the intact hymens? or that it's Harmful because what about those of us with buttcheeks we don't…
Today we learned about Cellulaze, a very expensive laser treatment that is being heralded as a possible "cure" for cellulite — as if cellulite were an illness, a plague of the thighs, a disease of the ass. Cellulaze was covered in the New York Times and the Today Show, which conveniently demonstrated the procedure.…
Cellulaze! Cellulaze is a revolution. A revelation. The procedure, which requires only one doctor's visit, has been approved by the FDA for treating cellulite — an actual long-lasting "fix" for the problem. Except, of course, if we're being completely honest, we have to admit: Cellulite isn't actually a problem.
KK explains: "Sometimes I pig out and I still feel great, and think, 'That was so worth it!' That's how I feel a lot of the time. I think, 'See this little dimple of cellulite here? It was so worth it for that cookies 'n' cream ice cream!' If I was stuck on a diet my whole life, I would be really miserable. I love to…
Welcome back to Midweek Madness, in which we sift through the silt of In Touch, Star, Us, Ok! and Life & Style, looking for nuggets of gold. This week, having cellulite is completely normal, which is why Holly Madison posed for unretouched photos, but that doesn't stop Star from printing a cover story that involves…
Judge Judy was recently on William Shatner's new Biography Channel show Raw Nerve, and the two discussed why she doesn't have empathy for violent criminals, why men are "marginal souls," and why women rule.
Welcome back to Midweek Madness, in which we suffer the indignity of reading the weekly tabloids so you don't have to. Another slow news week means the covers suck. This Star cover makes us extremely stabby. But as always, God is in the details. Look deeper and the tabs offer gems: Like Gisele Bundchen's stance on…
Kim Kardashian just made her famous ass a little more famous after she let cameras film her cellulite-reducing treatment. Kim was getting her backside camera-ready for an anniversary present — a sexy calendar — she was giving to her boyfriend, football player Reggie Bush. This is probably the sexiest cosmetic…
When it comes to best-selling covers, the weeklies win with fatalities and flesh, reports the New York Post. Aside from special issues, like "Sexiest Man Alive," People magazine's best-selling issue in 2007 dealt with the apparent suicide attempt of Owen Wilson. So far, their best selling issue of 2008 was the…
Cosmetic procedures, claims Natasha Singer in today's New York Times, usually start on the East or West Coasts and then move inland. But controversial new treatment lipodissolve is all the rage in Missouri and Kansas. (In the UK it's called Flabjab.) The procedure, which uses injections of a drug compound to target…
Welcome to Midweek Madness, Jezebel's weekly roundup of the celebridiocracy as seen through the gimlet eyes of Bonnie Fuller, Janice Min and whoever the fuck is responsible for Bauer Publications. In which we "read" the Wednesday tabs. So you don't "have" to.
We hate to be predictable, but even though wins our…