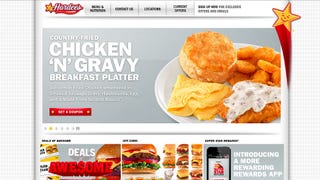 A former Hardee's employee in South Dakota said he was working "on and off the clock" for a sexually inappropriate manager. Now he's suing the burger joint with all those "sexy" food commercials (Hardee's and Carl's Jr. are the same company).
On Friday we found out that Carl's Jr. had invented the Pop Tart ice cream sandwich, which is one creamy scoop of vanilla nestled between two strawberry toaster treats. YUM. Now comes the commercial, which treats the dessert like the epic creation it is. And look! It wasn't necessary to involve any scantily-clad…
Ok, everyone, I get it. The Cronut has goaded our hubris, and now our sudden compulsion to create decadent food-mutants has gotten the best of us. Is this the new phase of enlightened human consciousness, or will it end terribly (with a rioting hoard of angry villagers chasing a croissantwich into a windmill and…
Sweet heavens no! The poor people of New Zealand have been denied a Carl's Jr. commercial featuring two 19-year-old girls in jorts "sexily" fighting over a sandwich thanks to the country's ban on using "sex appeal in an exploitative and degrading manner and the use of sex to sell an unrelated product." But how will…
Eaten at Carl's Jr. lately? I would guess not — I don't know about you, but haven't ordered from a Carl's Jr./Hardee's since the late nineties when I realized that I could save cash and create the same flavors by pouring a bottle of barbecue sauce over a bunch of used bandaids. Not that our consumership matters to…
In this week's TV roundup, Ben gets some competition for best campaign manager in Pawnee on Parks and Rec, Jackie Collins and Oprah take a very 80's limo ride, a Sports Illustrated swimsuit model gets freaky with some bread and meat and Taylor Kitsch is still beautiful beautiful Taylor Kitsch.
It's everything…
Following in the footsteps of Paris Hilton and Audrina Patridge, Olivia Munn is the latest celeb to wear a swimsuit and hold a double cheeseburger for Carl's Jr. Because, you know, nothing helps you get a slamming bikini bod like juicy red meat and processed dairy. BTW, this choice is Interesting since she has also…
More on women and meat: The ever classy fast food joint Carl's Jr. has sent out a casting call for videos of "hot" women eating burgers. The tagline? "More than just a piece of meat." [Feministing]
The latest installment of Target: Women is Douchebaggery 101. Instead of a textbook, you'll be learning by watching commercials for Carl's Jr. For instance: