In case you were unaware, the male nursery web spider is a kinky little rascal.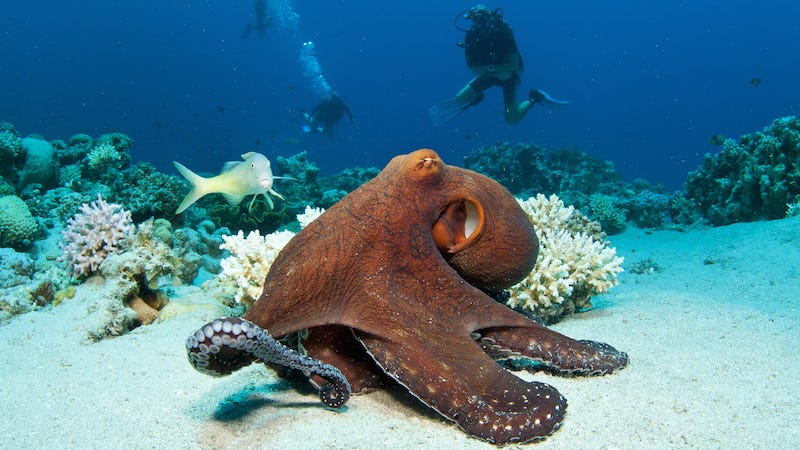 On Valentine's Day, the octopuses at the Seattle Aquarium are typically afforded the opportunity to get a little nasty — so long as they don't mind a gaggle of human voyeurs. But this year, there was no octo-sexing, for fear of coital cannibalism.
After seeing the trailer for In the Heart of the Sea several times over the past few weeks, I thought I knew what it was about: Chris Hemsworth, a whaler, goes whaling with his whaler friends, gets attacked by an enormous sperm whale who refuses to be whaled, hops in a tiny boat with the other surviving whalers, and…
Hannibal was recently cancelled by NBC, putting an ailing show out of its misery, as well as those of us who knew it started flailing after its first season yet were forced to read endless television critics blathering on about its supposed brilliance. (Seriously, guys; all the dark lighting and creepy sound effects…
As the year draws to a close, it's likely that you've been asking yourself one question and one question only: what is 2014's answer to Fifty Shades of Grey? What taboo will some enterprising publisher mine in order to instill a small tremor of excitement in us as a populace? Um, well, according to speculation,…
I never thought I'd long for the days where the most despicable thing a New York Police Department officer was accused of was raping women, but here we are: a cop was arrested yesterday in Queens by the FBI "on suspicion of a federal kidnapping conspiracy in which he discussed cooking and eating female body parts,…
An international child porn crackdown that's led to 40 arrests in six countries has uncovered a particularly gruesome stateside correspondence out of Florida, our nation's unofficial Sensational Headline Generator™. A 57-year-old man named Ronald William Brown, who has worked as a Christian-interest puppeteer and…
Listen, this face-eating business is getting out of control—and we can't even blame it on bath salts anymore. . Now it's spread to China; is there some kind of virus traveling through the air, Contagion-style? This latest incident occurred in Wenzhou, when a very drunk man randomly attacked a woman who was driving by…
Bug lovers will recall that the female praying mantis cannibalizes the head of her sexual partner upon mating. Turns out this may not entirely accurate.
Analysis of bones found at the site where the Donner Party spent their deadly winter indicates that, although they consumed dogs and horses, they probably didn't resort to cannibalism. Experts say the Victorian-era allegations may have stemmed from racism. [MSNBC]