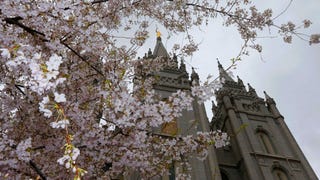 Brigham Young University student Keli Byers penned a bold open letter for Cosmopolitan this month, in which she challenges her school's regressive, anti-woman ban on sex. It's an incredibly brave move, considering that, as a teen, Byers was suspended from church for being sexually assaulted by an older Mormon…
First of all, not a "prank." Not a "prank." How is this a "prank." Explain. I would have put "prank" in sarcastic quotation marks in the headline, but I had to put "Put Your Number in My Phone" in actual quotation marks and it screwed up my whole sarcasm thing and BOY AM I UNHAPPY ABOUT IT. Because this is…
Earlier this week on Valentine's Day, Brigham Young University student Brittany Molina was minding her own business on campus when a young man pressed a note into her hand. Note passing on Valentine's Day! So romantic, right? Unfortunately not as the note Brittany received was actually a request. A request for her to…
What a bunch of cool kids! Does this video make you want to enroll at Brigham Young University and do college all over again just so you can be friends with a bunch of fun ignorant racists? Race you to the registrar!

Changing the names of high school sports teams to be less offensive to certain groups—like Native Americans, for instance—is nothing new, but now a school board in Utah has taken it to a whole new level. A high school is opening in 2013 in the town of Draper, Utah, and they wanted to call their team the Cougars. The…
When BYU basketball star Brandon Davies was suspended early this week for honor code violations, it wasn't immediately clear what the transgression was. After all, the Mormon university's honor code also includes regulating dress and grooming and abstaining from alcohol — was that enough?
Researchers from Brigham Young University are worried about a new study that suggests students in coed dorms are more likely to binge drink, have multiple partners, and watch porn than those in same-sex housing. Sounds like...fun? [LiveScience]
The lower house of French Parliament voted in favor of a bill today that outlawed "publicly inciting extreme thinness," reports the AP. What does "inciting thinness" even mean? Well the definition, according to law author Valery Boyer, is pretty vague. The new bill would allow judges to imprison or fine offenders…