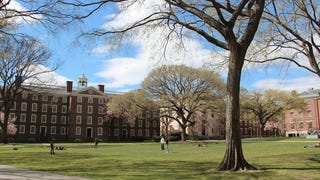 At the end of last week, Brown University student Lena Sclove filed a federal complaint against her college for allegedly mishandling her sexual assault case. Sclove says Brown did not expel her rapist even after they found him in violation of rules against "non-consensual physical contact of a sexual nature."
Nudity is a very simple concept that's been made wildly complicated by a mess of social historical, and cultural pressures. We emerge into this world wearing nothing but bits of amniotic sac (and a very beautiful baby wig, in the case of Suri Cruise); however, once a human has reached late childhood, the freedom to…
Both Viola Davis and Michelle Obama have been in the spotlight lately, but for the most part, dark-skinned women are underrepresented in pop culture. We have plenty of hugely popular black singers and actresses — Beyoncé, Nicki Minaj, Halle Berry — but more often they are the light shades of tan. And the truth is,…
Rosie O'Donnell discussed Chris Brown on her radio show over the weekend, saying: "I just don't know why this kid seems to be held to a different standard than anyone else." Because, you know, other people throw chairs at windows, sending shattered glass down onto Times Square, and no one gives a shit!
American Apparel's stock sank to a 52-week low yesterday after news that its quarterly loss had widened, and that it had received a de-listing warning from the New York Stock Exchange. What, neon onesies aren't great business? [TS]
A London man found the album from Amy Winehouse's wedding to Blake Fielder-Civil in a dumpster with some photos torn out and Amy's beehive colored in.
Sarah Jessica Parker and Matthew Broderick's surrogate gave birth to their twin girls this morning in Ohio. Sarah Jessica and Matthew are at the hospital with the surrogate and released a statement saying:
Beyonce's little sister, Solange, who gave birth to son Daniel when she was 18, has advice for fellow teen mom-to-be Jamie Lynn Spears: "I'm sure a lot of people perceived that I was gonna be a young, irresponsible mom. You just have to make the best decisions for you. You have to decide what's best for you. Who are…
It's not like us to take sides with a Spice Girl or even really care what they think. But we will draw the line with the recent mistreatment of five-month preggers Scary Spice. We haven't seen a pregnant sister treated so poorly since Billy Crudup left 7-month pregnant Mary Louise Parker for a much younger Claire…