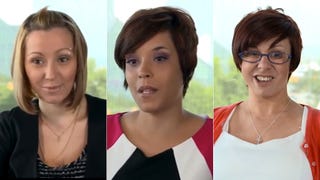 After an absence, Page Six gossip columnist Richard Johnson is back at the New York Post, and his most recent column is about Amanda Berry, Gina DeJesus and Michelle Knight, the Cleveland kidnapping survivors. But wait, you say. There's no gossip there, that's a news story. Not in Richard Johnson's world.
Remember Dara-Lynn Weiss, that super cool, chillaxed mom who forced her 7-year-old daughter onto a Weight Watchers-style diet, shamed her into losing sixteen pounds, then wrote that shitty essay about it that appeared in the April issue of Vogue? Of course you do — you cut out her article and use it as parenting…
Did you miss her? She'll be back in August 2011 with a book that will go "behind the scenes of her race for the Senate and embody O'Donnell's identification with America's frustrations and concerns with the current political climate."
Congratulations are in order to Jezebel editor Anna North, who, a mere 7 months after graduating with an M.F.A. in fiction from the Iowa Writers Workshop, has sold her first novel. [Publisher's Weekly]
Formerly detained journalist Roxana Saberi has announced that she is working on a memoir to be released in March 2010. The book will cover her arrest in January, her trial and sentencing, and eventual release. [AP]
Tiny Art Director is one blog so cute we don't begrudge its book deal! Graphic artist Bill Zeman draws things according to his four-year-old daughter's exacting instructions (ie, "A dinosaur eating a R and an O and an S and a I and a E"), she critiques the result. [BoingBoing]
It's never fun to return to work after a sojourn in the South Pacific, but my arrival back on American soil has been made sweeter with this news: Jezebel contributor Lizzie Skurnick has sold a nonfiction title inspired by her increasingly-popular Friday feature about beloved, classic children's and young adult books, …