Compare to the UK version.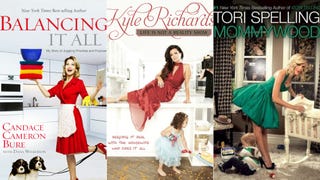 Candace Cameron Bure (aka D.J. from Full House aka the woman who definitely was not going to win Dancing with the Stars this season, not with Olympic skater Meryl Davis in the mix) is just trying to explain how she works at Balancing It All. And like many before her, Candace has figured out that there's no better way…
Some classic Judy Blume novels are getting a makeover. Entertainment Weekly has an exclusive look at the new covers for Are You There God? It's Me, Margaret and Forever. Do you like? (Please note the tagline "Growing up is tough. Period.")
One ought not judge a book by its cover, but one may judge book covers in general: Some just work, whether it's because there's a beautiful illustration, an interesting use of type, or a stark simplicity (think Catcher In The Rye).