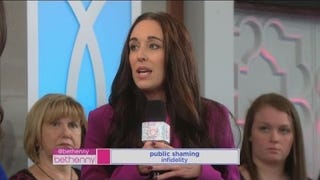 The woman who still goes by the name Ariella Alexander is still making the most of 15 minutes of fame; she was featured during Wednesday's episode of Bethenny to support her websites She's a Homewrecker and He's a Homewrecker, alongside some very angry women on both sides of this public shaming of sluts issue.
Feminism is having a moment, you guys. First Miley Cyrus and now Courtney Stodden—everyone wants to be part of our little club! It would seem that we are officially in the midst of the Fourth Wave. The difference is that this time around we're wearing makeup, so people don't mind being associated with us.
Real Housewives of New Jersey stars Melissa Gorga and her husband Joe appeared on Bethenny this week to promote her marriage advice book Love Italian Style, where Joe continued to say really gross stuff about sex and consent.
It's September which means daytime talk is back! And what a premiere day it was. As children frolicked to school through air that had just a hint of fall's crispness to it, parents turned their television sets on to bask in brand new footage of Women Getting Real. If you were an alien life force who got your first…
Lindsay Lohan accidentally ruined a cake at a Victoria's Secret party, as she thought the cake was actually a giant perfume bottle. "She accidentally poked a hole right in the middle of it." says a source. Team Pie shenanigans! [PageSix]