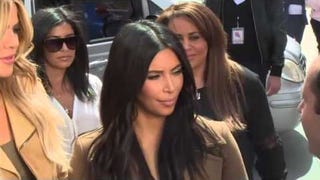 Kim Kardashian is currently in Armenia, where she is getting in touch with her roots and commemorating the 100th anniversary of the Armenian genocide. As part of her trip, Kim (and Khloe, and a few cousins) were invited to meet with Prime Minister Hovik Abrahamyan, who couldn't have been more delighted to meet the…
This diplomatic cable from Armenia entitled "A Prostitute's Story," is a thoughtful look at sex trafficking there, indicating that beyond the better-known coercion, economic conditions are driving women to willingly seek sex work, and parents to knowingly pimp their daughters.
In 1064, Turkish armies laid siege to Ani, a bustling, largely Armenian city of 200,000. They were ordered to destroy Ani, and kill everyone they found. In 2011, Elle Turkey used the ruins left behind for a fashion story.
[Moscow, April 24. Image via Getty]
In Armenia, an ancient virginity ritual, "the red apple," is getting political.