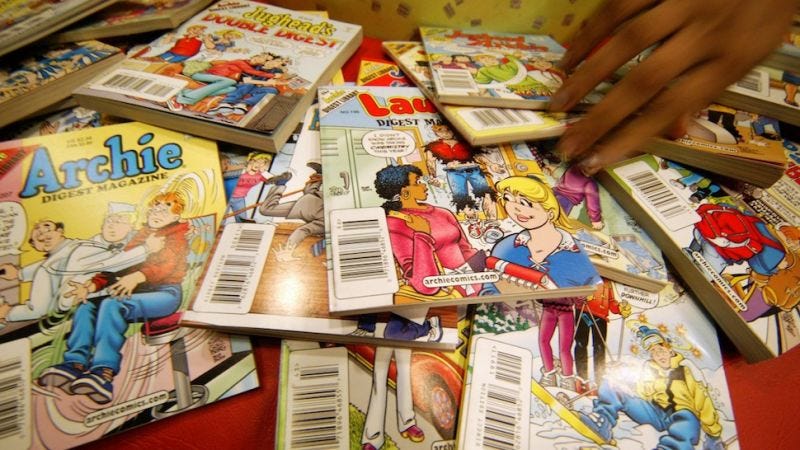 Archie, the red-headed teen of comic book fame, is getting his own television show. Variety reports that teen melodrama factory CW announced that it has ordered a pilot for the television show Riverdale, a show based on Archie and his famous friends.
Archie Comics, an illustrated parable about an ordinary young man who is inexplicably irresistible to women of every hair color and economic class, is getting its first gay kiss. Yay! But also, it's about time — the comic series introduced Kevin Keller, its first openly gay character, in 2010, so the poor youth has…
It looks like Glenn Beck should have saved his ire for the Archie comics rather than losing it over the new biracial, gay Spider-Man (particularly because Miles Morales is heterosexual). It was announced today that Archie's friend Kevin Keller will get married to a man later this year. Conservatives are extremely…
Archie Comics is suing to bar its co-ceo, Nancy Silberkleit from returning to the office, saying employees complained about her "offensive" behavior.
Comic book store owner Dave Luebke is auctioning a copy of Archie Comics No. 1 worth $30,000 to protest Archie proposing to Veronica in the August 19 issue. "Betty is it. Not Veronica," said Luebke, "This is serious." [AP]