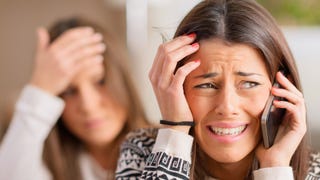 Here's the thing about April Fools': It sucks. Pranks are all well and good when you're five years old and the only thing you can do is drool and make up some joke about being a space monster or something, but when you're an adult and try to raise the stakes, that shit gets real. Here's a tip from me to you: Never…
Alright alright, I know you're over all the belated April Fools pranks and leftover videos. I don't even like April Fools Day—I basically need to keep a roll of Tums with me the whole day because my body can't handle that type of prank stress. ANYWAY, these students planned and executed a prank on their professor…
The internet generally becomes an annoying cesspool of lame jokes on April Fool's Day, especially in the arena of online shopping, but today one site's April Fool's goof did manage to elicit a smile from me. Hip, do-gooder eyewear maker Warby Parker unveiled a new "collection" of eyewear for dogs. Appropriately called…
Poor Mitt Romney, he just cannot catch a break when it comes to his staff. First his communications director likened him to an Etch A Sketch, and now his staff has delivered unto him the lamest April Fool's joke in history. Here's what happened, according to the AP:
In a stunt that makes antiquing look like a fun way to wake up, Jimmy Kimmel asked his viewers to videotape themselves throwing water in a sleeping friend's face. The results are hilarious.
Yes, we were kidding. Obviously. But seriously:
We were "purchased" by Conde Nast...not. But you guys got your panties in some serious bunches about it.