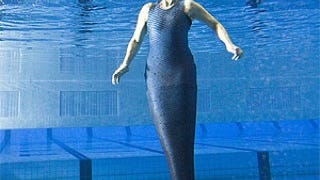 "A prosthetic is a prosthetic, and your body has to be comfortable with it and you have to mentally make it part of yourself," says Nadya Vessey, who now has the prosthetic of her dreams.
South African swimmer Natalie du Toit didn't win a medal in Beijing, but she is still one of the most inspiring Olympians of this year's Games. Du Toit, 24, lost her left leg in a motorcycle accident in 2001, a year after she failed to qualify for the Sydney Games. Three months after her leg was amputated at the knee…
So old Heather Mills is gonna get $98 million, for sleeping with Paul McCartney for a few years.