Lindsay Lohan was granted a 15-hour day pass to leave her sober house and spend Thanksgiving with her father and some friends in Los Angeles.
A dejected, underwear-clad Lady Liberty-Gaga and a tuxedoed Marc Jacobs, shot by Mario Testino, cover V's newest issue. [NYDN]
Lanvin for H&M is happening! The men's and women's collections will hit over 200 stores worldwide on November 23. [WWD]
Alexis Stewart's show, Whatever Martha, kind of makes us uncomfortable, feeling as it does like an extended case of public adolescent rebellion. To wit: they talk about "sexless marriage!" Which Martha would never talk about!
When I first wrote about the forthcoming show Whatever, Martha, , I thought it would be distinctly not a good thing. I remain resolute in my feeling that the show will hit the wrong notes — who wants to hear a daughter telling people that her mother, a beloved television hostess, didn't like her own child very much? —…
Reformed jail bird Martha Stewart, in a desperate bid to appeal to a younger audience, has sanctioned a TV show starring her daughter, Alexis, and Jennifer Koppelman Hutt, the daughter of the chairman of Martha Stewart Living Omnimedia, in which they mockingly recap old episodes of Martha's show from the 90s. Does…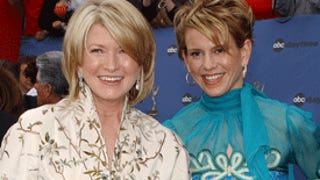 Raised in a world where feminism guides us to believe that we can accomplish anything we want if we just put our minds to it, it must be a big disappointment to get slapped in the face with something as uncontrollable as the limitations of biology. Especially if you're the daughter of someone as accomplished as Martha…