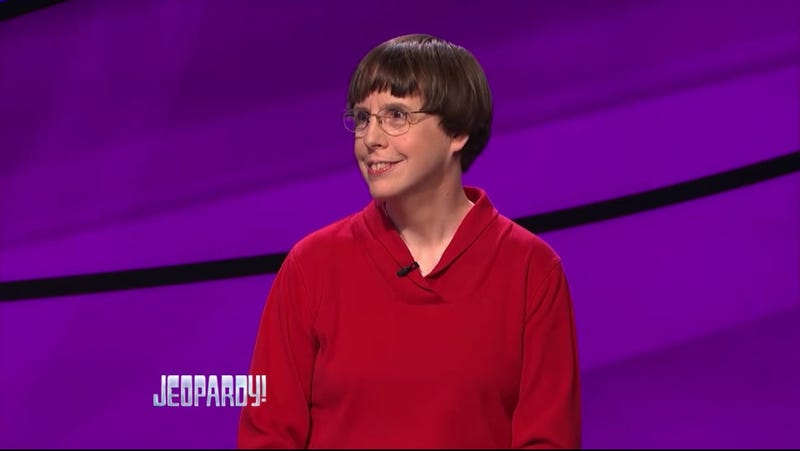 The worst question, by far, is, "What do you do for fun?" You can rack your brain looking for answers that make you sound cool (Fire-eating? Sword swallowing? Homemade stick and poke tattoos?), or you can own it. The internet is rightly celebrating Jeopardy! contestant Margaret Miles for doing the latter.
Jeopardy!—the ideal show for a weeknight drinking game with your parents—has suddenly determined that Canadians may no longer compete in its battle of mind and wit. This new regulation is curious since host Alex Trebek holds dual U.S. and Canadian citizenship.

On last night's episode of Jeopardy, a contestant, Fidelito, was penalized for mispronouncing "Elaine" in a question about Julia Louis-Dreyfuss' character from Seinfeld. Except Fidelito didn't really mispronounce the name; he just doesn't have a rock-solid American accent (as if such a thing definitively exists). But
For days, a Facebook campaign has been asking Dark Knight Rises star Christian Bale to visit the Aurora shooting victims in the wake of last Friday's massacre ("I propose we should make enough noise asking Christian Bale to visit these kids in the hospital dressed in the real Batman outfit. They need to know Heroes…
Katy Perry — now dating Ghostbuster Dan Florence + The Machine guitarist Robert Aykroyd — is taking a break from showbiz after her doc Katy Perry: Part Of Me is released, in order to let her heart and/or cupcake boobs heal after Aldous Snow poured Malibu rum all over them and devoured them en flambé. If she spends…
In this week's compilation of pop culture crap, Stephen Colbert's interview with a vampire, Janice Dickinson is working those 12 steps, and TMI about Alex Trebek.
You'd think it was weird enough that a film premiere a "family movie" somehow got switched out with a porno, but then the pregnant lady got stabbed…