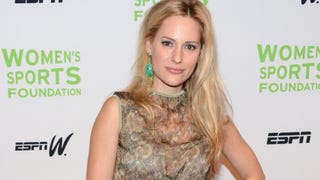 We are pleased to announce that we have a very special guest joining us today at Jezebel: the athlete, model, actor, and speaker Aimee Mullins will be here for a Q&A session with you, our readers, starting around 1 PM E.S.T. Mullins, whose legs were amputated below the knee when she was just 1 year old, is known for…
Last night at the Seventh Annual Women of Worth Awards in New York, celebs gathered to "celebrate everyday women who are making a beautiful difference in the world." And sure, L'Oréal Paris recognizes these women for their extraordinary efforts and supports these inspiring women through grants but this is a fashion…
Last night, Olympian, model, actress, and activist Aimee Mullins schooled Stephen Colbert on disability and prosthetics last night. Of course, there was also a proposed Boob Olympics.
"I don't have any issue wearing legs that aren't human-like, but I want the option to have human-looking legs. [...] individuality and personal choice are important. How many colours do iPods come in?" — Aimee Mullins, amputee, actress, athlete [NewScientist]
In this talk, athlete/model/actor Aimee Mullins describes showing a group of kids some of her prosthetic legs.
Britney Spears was involved in a minor car accident Saturday night; no one was injured and no vehicles were damaged. [AP]

Apparently Brit was in stop and go traffic, driving at about 10 m.p.h. and putting on her makeup before the accident. Brit passed a field sobriety test. [TMZ]

Dr. Phil is so classy and generous! He…