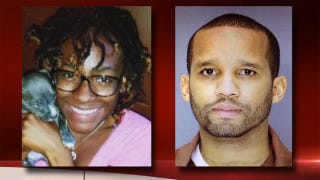 Carlesha Freeland-Gaither, the 22-year-old Philadelphia woman who was seen on surveillance video being violently abducted off the street, has thankfully been found alive.
Margaret Talbot's piece in the New Yorker this week might be called "The Extraordinary Resilience of Elizabeth Smart" but a better title might be "How Elizabeth Smart Did the Impossible." The piece explores how Smart managed to get through her abduction and become that much more than an abduction victim forever…
On Thursday, campus police officers at the University of Kentucky let their well-honed law enforcement instincts lead them to the discovery of a 17-month-old girl named Alouette Day-Moreno-Baltierra, who, until her fateful rescue from the windblown quadrangles of Lexington, had been missing from her home in Los…
A woman who kidnapped a 19-day-old girl from a Harlem Hospital was sentenced to 12 years in prison on Monday, marking the final installment of a more than 20-year saga that is among the longest non-parental abductions in which a missing child was finally reunited with family. In February, Ann Pettway pled guilty to…
When it comes to sex trafficking, teenage girls are normally the victims not the perpetrators. But a horrifying new case in Canada has turned that all on its head. Three teenage girls in Ottawa stand accused of running a prostitution ring in which they abducted other young women and forced them to have sex with…
Do you like werewolves? Mysteries? High school boys? Bad acting? Shit that blows up? Martial arts? Secret government conspiracy theories? Parkour? Biceps? Phil Collins? Frowning? Then you'll love Abduction, directed by Boyz n the Hood's John Singleton. The clip gives it all away: Taylor plays Nathan, who finds out he…
As news broke that Carlina White reunited with her family 23 years after she had been kidnapped, federal investigators have been trying to determine if the woman who raised Carlina was also her kidnapper. Also, where to find her.
Nedjra Nance always had doubts about the abusive, drug-addicted woman she knew as her mother, and she was right. It turns out the woman, dressed as a nurse in a hospital, had kidnapped her from her parents as an infant.
The teenager found in New York two weeks ago with no memory of her identity is lucky in one way — her family is coming to get her. Many young runaways have no one looking for them at all.
The notoriously aggressive British tabloid press has been obsessed with the disappearance of 4-year-old Madeline McCann since she vanished from her family's hotel room at a Portuguese resort this past May. The majority of the the scrutiny, as Broadsheet pointed out this morning, has fallen on Maddy's mother, Dr. Kate…