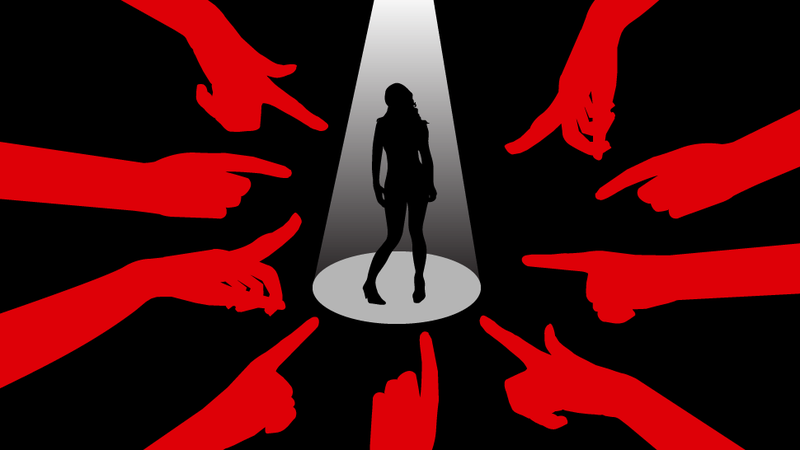 We need to talk about "slut-shaming." As a term, it's enjoyed a rapid proliferation —likely because it's useful and very pertinent to the experience of being a woman. The phrase "slut-shaming" takes an insidious, malignant cultural tendency to police, judge and condemn women for being comfortable with their own sexuality and neatly and concisely sums it up in two words. "Slut-shaming" should be a great rhetoric tool for us to all have handy! Recently, though, I've begun to feel exasperated whenever I come across it in feminist writing.
As an accessible concept, "slut-shaming" has made it easy and convenient to point out insidious sex-negative sexism. It's even graced the pages of the New York Times — a testament to its institutional legitimacy as a concept (we made it!) and to its pervasiveness (we're everywhere!). So why don't I feel relieved or as though we've made some kind of important rhetorical shift? Shouldn't I be happy that more and more people are gaining the language and context necessary to parse outdated, sexist ideas about sexuality — ideas that all too often present themselves as common sense?
Well, no. Because "slut-shaming" doesn't mean anything anymore. When we call everything slut-shaming, we seriously erode its power as a concept. It's like the Boy Who Cried Wolf: automatically say that anything that expresses a not-entirely-positive view of something sexual is "shaming," and everyone will become so desensitized to the idea that the term ceases to elicit anger or outrage or any feeling at all. "Slut-shaming" has become a nebulous blob of a buzzword, flopping around the blogosphere ineffectively and hollowly.
Back in the old days, before everything on the Internet had been coated with a thick layer of slut-shaming accusations, it was useful and insightful to say that Rush Limbaugh slut-shamed Sandra Fluke when he publicly called her a whore for taking birth control. It opened up a conversation about sexism and regressive attitudes about sexuality in broadcast media and the world at large. Now, however, the term is deployed basically every time someone does or says something not completely celebratory about sex. In the past month, we've heard that the sleeping video of Justin Bieber is slut-shaming. Dress codes are slut-shaming. Telling your neighbors to stop screaming with delight during sex because it disrupts your sleep is slut-shaming. Obamacare ads saying that insured women will be sexually carefree are slut-shaming. The aforementioned New York Times article examines a study that claims that to give another woman a disdainful look for wearing sexy clothing in a professional setting is slut-shaming, and that slut-shaming is hardwired into women because of evolution. An email that recently landed in the Jezebel inbox lamented the fact that the general public was slut-shaming an x-rated 5K run by saying it was degrading to women. Another email links to a Return of Kings article called "24 Signs She's a Slut" (I mean, duh, of course it's slut-shaming; it's in the Return of Kings mission statement that sexually active women should be shamed). The body of the email reads, "Sick of this SLUT SHAMING!!!"