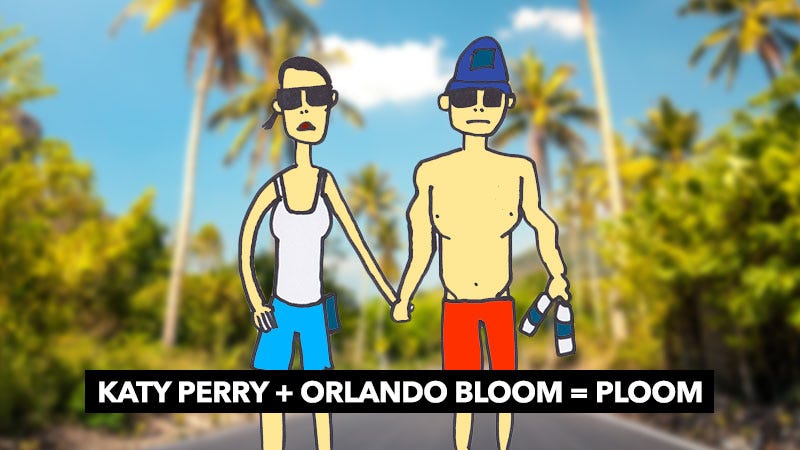 Rumors about Katy Perry and Orlando Bloom's romantic relationship have been filling the darker corners of the internet since they were photographed whispering simple sentences to each other at the Golden Globes, but until today, no clear photos of Ploom engaging in public displays of affection have been published.
Because we do not have rights to the clear new images of Ploom (they're Entertainment Tonight exclusives), you'll have to settle for the terrible sketch above, as well as a few descriptions from a source who claims to have seen Ploom gettin' up close and personal in Hawaii.
The details of Ploom's vacation are nothing short of fascinating.
"They looked very loved up and really into each other."
"They were comfortable letting everyone see them as a couple — lots of PDA and hand-holding."
"It seemed very romantic and they both smiled a lot."
"[They] looked to really enjoy each other's company."
Wow, can you feel the heat? It must be like at least 72 in here.
---
After Kesha tweeted at Lady Gaga and Joe Biden for "bringing attention to sexual assault at the Oscars," Dr. Luke's lawyers sent a statement to TMZ saying, basically, that Kesha needs to stop calling herself a victim.

Wrote Christine Lepera, Luke's lawyer:
"Ms. Sebert [Kesha], who in sworn videotaped testimony from 2011 stated that she had never been sexually abused or drugged by Dr. Luke is neither a victim nor the appropriate person to be held up as an example for this important issue."
Wrote Jezebel, in 2012: