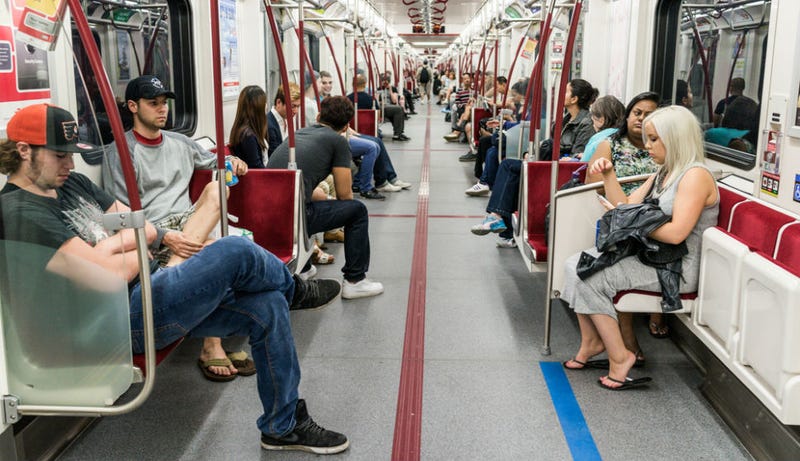 Over at The Jewish Daily Forward, Save the Assistants author Lilit Marcus has the first ever interview with Tzipporah, the blogger who started "Move The Fuck Over, Bro," a blog that posts surreptitiously taken photographs of men who seem to deliberately or obliviously take up too much room on public transportation.
Tzipporah (who requested the writer not use her last name), told The Jewish Daily Forward that she has fans from all over the world, but that she's also gotten a barrage of hate mail for posting her pictures. "It's a scary and not always smart thing to do, taking pictures," Tzipporah told the publication.
She averages hundreds of emails a day, mostly angry ones. "The strong, serious majority of my mail is hate mail. I have 172 messages right now and easily 100 of them are some guy calling me a bitch. But I get a lot of women writing in saying 'thank you, this is really great, I thought I was imagining it.'"
Tzipporah says the reason it touches so many nerves and gets so many people angry is because of good ole' fashioned male privilege—men are outraged that a woman is calling them out for their behavior, and that's why she's attacked for it. But she says her project is ultimately not about embarrassment—it's about empowerment:
"Women write in about how their brother sits on the couch and takes up the whole thing," she says about some of the blog's positive side effects. "It's cool to think I might influence someone's way of thinking or make them realize there's an issue. So many girls are so resistant to the idea of male privilege. We teach girls from birth to be quiet and subservient and take up as little room as possible. I was like that too."
She credits her father for empowering her to speak up in the first place. "He encouraged me to look at women as complex individuals. He has always been really proud of me," she said in the article. "Raising up Jewish girls is like my favorite thing. The idea that religion is misogynist bothers me."
Oh and she gets lots of hate mail attacking her for being Jewish, too. Because what better way to confront someone who is doing something you disagree with than to make horrible comments about their religion:

Although Tzipporah does use her real first name on the blog when responding to questions and comments, identifying herself with a recognizably Jewish name has brought on a whole new round of ways for Men's Rights Activists (MRAs) to lash out at her: "Sometimes I get people who recognize that my name is Jewish and send me 'jokes' about burning me in a concentration camp." They also accuse her of 'censorship' when she writes the word "G-d." Because of that, she does not use her last name, give specifics about where she lives, or mention what she does for a living.
I have openly admitted many times before that I'm not a super big fan of taking and posting pictures and videos of people, no matter who they are or what they are doing, without their permission. However, there's something to be said for doing it to tackle a prevailing problem, such as the one Tzipporah (and lots of others) face repeatedly on her daily commutes. We can all relate. One of the worst memories I have is riding the subway when I was 15 years old, watching a man across from me spread his legs like an Olympic gymnast and stare directly into my eyes.