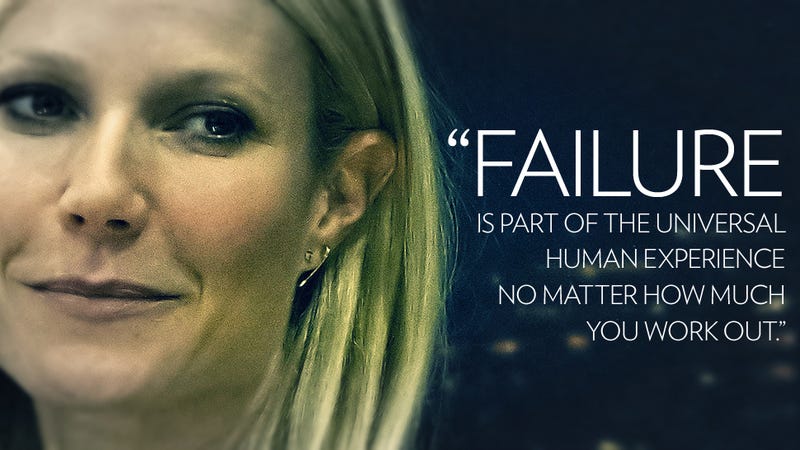 Yesterday marked the first time I've been genuinely interested in Gwyneth Paltrow in years. From the look of Paltrow's lifestyle blog, which experienced such heavy traffic from gawking celebrity watchers that it crashed after she announced her divorce from Coldplay frontman Chris Martin, I was far from the only one; her website was built with the assumption that a relatively small number of people would give a flying fuck about her advice on how to live a perfectly Paltrow life. It didn't account for how many would suddenly care when that life's perfection cracked.
If you examine public fascination with celebrity break ups and crack ups and divorces, it would be easy to reach a cynical conclusion that part of the reason that celebrity culture is so we can "tear women down." Over at the Washington Post, Alyssa Rosenberg writes that different public reactions to celebrity divorces, from "IT WAS FAKE ALL ALONG!" to "IF SHE CAN'T DO IT THEN NO ONE CAN!" serve as commentary on how the public really feels about the notion that women can "having it all" — we all know, deep down inside, that being perfectly fabulous and fabulously perfect is impossible, and The Normals derive satisfaction in having that belief affirmed. Reaction to Paltrow's divorce, Rosenberg argues, came with a dollop of extra frothy glee, because Gwyneth's whole thing was kind of telling women that they can, in fact, have it all, like her. And we didn't want to hear it.
The tide of Gwynethfreude that is breaking over the internet is particularly tsunami-like because, since founding her newsletter Goop in 2008, part of Paltrow's business has been telling other women how to live glamorous and complete lives. That her marriage broke up casts doubt on the certainty with which she recommended everything from $425 cleanses to Turkish towels. We can let go of both relationship envy and fear of missing out all in one go!