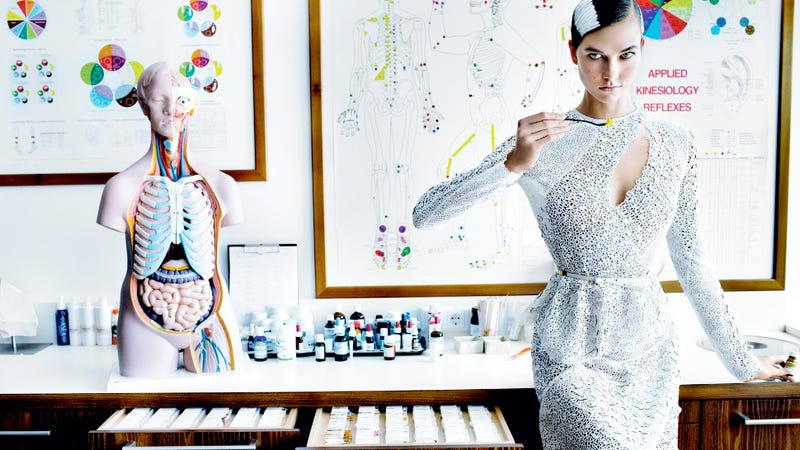 American Vogue sent Karlie Kloss to an Austrian health farm to shoot an editorial. The resulting photos — and their captions — really deserve to be savored. So does the ridiculousness of seeing Kloss, a woman who is thin for a living, pretending to lose weight by submitting to the treatments of a place called the Viva Mayr center. Including a goofy "exercise vest" that promises to zap your muscles, and, um, getting totally naked.
Sample caption:
Karlie Kloss starts her week by unwinding in Viva Mayr's restorative light- and sound-therapy pod, developed with scientists at the nearby University of Graz.
And the fashion credits, well, they read like something Drew Droege would come up with to make fun of Chloë Sevigny:
Proenza Schouler technical-lace dress. Stella McCartney belt.
Based on the Viva Mayr center's price list and the treatments described in Vogue's spread, it looks like a week-long stay could easily set you back $10,000. Oh, Vogue. [Vogue]
---
Jumpsuit ahoy: this is Viktor & Rolf's first bridal collection. [Vogue UK]
---
This Mario Sorrenti portrait will appear in ads for Rihanna's fourth (!) perfume, Rogue, set to launch this fall. [WWD]
---
Katy Perry's fourth perfume will be called Killer Queen, and also comes out this fall. Sources speculate that her licensee, Coty, expects it will do $80 million in retail globally during its first year. In this interview, Perry actually speaks knowledgeably about notes and several times uses the word "juice" in its technical sense as she discusses everything from her love of Jean-Paul Gaultier's fragrances as a teen to the development of Killer Queen. "I wanted some floral [notes], like jasmine, but I also wanted red velvet flower, which is incredible — it gives it the edge that makes it Killer Queen. It does have a bit of a gourmand thing to it — but gourmand like high tea at Claridge's. I wanted the scent to have a little bit of ambiguity. I was attracted to scents in the last couple of years like Alien by Thierry Mugler and Black Orchid from Tom Ford. They're too strong for me to wear all the time, and I didn't want to them to be [copies], just to have a hint of ambiguity like they do." [WWD]
---
• Nicholas Brooks, the boyfriend of swimwear designer Sylvie Cachay, has been found guilty of her murder. Cachay was found strangled in a bathtub at the Soho House in 2010. [WWD]