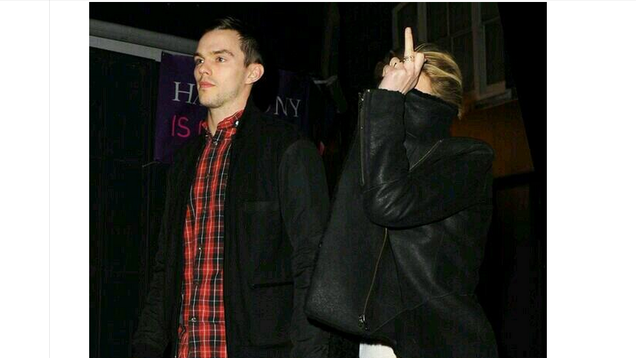 This happened last night as she and Nicholas Hoult left a nightclub in London. Less subversive than doing it at the Oscars, but also way less cheeky. This time, J. Law is (understandably) angry!
Here's another snap of her trying to cover her face:
Jennifer Lawrence partant de '' The Box club'' en Soho (22 Mars) pic.twitter.com/dgU7Uq0Bay

— Jennifer Lawrence (@JenLawsourceFR) March 24, 2014
Predictably, people on Twitter love it:
I woke up to pictures of Jennifer Lawrence putting her middle finger up, how could life get any better?

— Eяαy. (@_ErayYil) March 24, 2014
I LOVE IT JENNIFER LAWRENCE SHOWS HER MIDDLE FINGER. SHE'S SUCH A FUCKING BADASS CELEB

— Today ❤️ (@Looking4Hazel) March 24, 2014
J-Law's fuck finger to the london paparazzi who was stalked her and her bf, nick in london http://t.co/9zRLpu9Em5

— Grey is 00727 (@270grey) March 24, 2014
This user raises an interesting question, though: Is JLaw the only female celebrity who can pull something like this and get away with it? What backlash?
if Jennifer Lawrence can wave her finger high and get off easy.. Kristen Stewart should be allowed the same respect.. pic.twitter.com/FpbSnVtdTw

— IMcDerp (@EfronEnchanted) March 24, 2014
And just in case you wanted to relive the glorious first instance here.
Image via @jenperfectlaw.