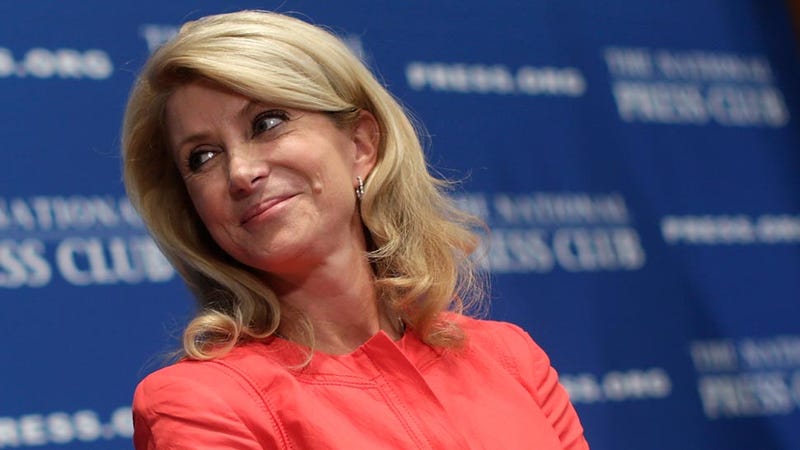 Over the weekend, New York Times public editor Margaret Sullivan took the paper to task for its characterization of Wendy Davis on a recent Times magazine front cover. In case you missed it, the cover featured a close-up of Davis's face with the captions: "CAN WENDY DAVIS HAVE IT ALL?" and "A Texas-Size Tale of Ambition, Motherhood, and Political Mythmaking." It came on the heels of their bizarro Hillary Clinton cover just a few weeks before, which portrayed the former First Lady as a leering, fleshy Death Star dominating politics with her "gravitational pull."
As Sullivan rightly points out:
Despite its well-intentioned efforts, this piece managed to trip over a double standard with its detailed examination of Ms. Davis's biography, including her role in raising her two daughters.

For many women, this relentless second-guessing hits hard and cuts deep. We take it personally, for good reason: In our society, there may be no more damaging wound than being found wanting in the good-mother department — and no career achievement can salve it.

Beginning the reader's experience with the outdated "Have It All" headline didn't help, nor did the subheadline: "A Texas-Size Tale of Ambition, Motherhood and Political Mythmaking," which comes close to suggesting that Ms. Davis is spinning a big lie. Together, they curdle the piece that follows. A description in the second paragraph of Ms. Davis's "fitted black dress and high heels" and her omnipresent half smile does little to ease the reader's suspicions.
So why do publications have such a hard time writing about female politicians? After all, it doesn't seem THAT complicated. All you have to do is write about the stuff that the politician did without bringing their genitals and/or gender presentation into it. Here, I made a template (just fill in the blanks and your article is done!):
NEWS REPORT: [Female Politician] did [politics] today. [Describe politics.] THE END
This isn't even a foreign concept—barring sex scandals, the media does it effortlessly, pretty much 100% of the time, with male politicians. But, yes, I understand that language is complex and nuanced and there are some tricky pitfalls lurking out there—like quicksand, or Martha Washington's vagina!*—waiting to trip young journalists up. So just to be safe, here's a handy guide to the subtler DOs and DON'Ts of writing about our nation's be-pantsuited lady-kings. (Rule #1: DON'T call them that.)
DON'T write entire articles about their haircuts, or mention their haircuts, or interview their hairstylists (unless you are specifically a famous politician hairstyling magazine!). If you find yourself itching to mention a female politician's haircut, stop for a moment and ask: Would I mention a male politician's haircut in this otherwise dry and journalistic context? Or a male astronaut's haircut? Or a male doctor's haircut? Or the haircut of any male professional about whose business-work I am reporting? Is this female politician implementing a new tax on sensible mid-length bobs? Is the pointless clump of dead strings growing out of her head relevant in any way other than to remind your audience, essentially, "Look at woman with job! It thinks it's people!" No? Then DON'T.