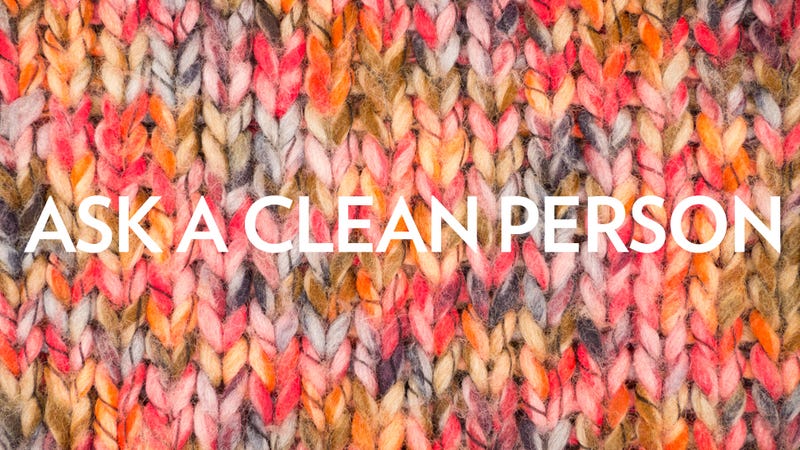 Jolie Kerr is a cleaning expert and advice columnist. She'll be here every other week helping to answer your filthiest questions. Are you dirty? Email her.
I have a few pairs of amazing Roxy slippers that I adore and are now ... well ... absolutely foul. I mean knock-a-dude-out-if-I-had-my-feet-over-his-shoulders-on-a-winter-night foul. I'm aware I could go buy new ones, but I love them and I am desperate to know if there is any way I can save them? They are fuzzy lined and have a fake sole—can I wash and dry them or am I screwed? Please help?! (Worse case, I have to go shopping.)
I can help, but if you'd like me to lie and tell you that the only choice is to go shopping I can also do that too. If you'd prefer the latter, stop reading now and get thee to the mall. The rest of you, come with me.
Generally speaking, when we talk about cleaning slippers the thing we want to be mindful of is the material used for the soles. The soles of most Roxy brand slippers are made of TPR—for those of you with a curious streak, TPR stands for thermoplastic rubber—and is a material that's often used in the manufacturing of sex toys. So now you know that! TPR can be cleaned with mild soap and hot water, but be aware that stronger cleaners like bleach, vinegar, isopropyl alcohol, etc. should be avoided, as they can cause TPR to break down.
Given that, you should feel free to launder those slippies! Using the gentle cycle is recommended, but if you want to throw them in with your regular wash just put them in one of those mesh baggies that are usually reserved for laundering hosiery or brassieres. That will help to protect the slippers from getting banged up too badly. Warm water would be ideal here—the hot water cycle on a washing machine is hotter than the hot water you'd use at home to hand wash them, so err on the side of caution and use the warm water setting. You can either dry them in the machine using the low heat setting or you can let them air dry.
Which brings us to hand washing those babies! Hand washing is absolutely also an option, and is certainly the more conservative approach to take if you're concerned about your favorite house shoes falling to pieces, or if you're unsure what they're made of. Speaking of which! These instructions apply to most slippers, including those with regular old rubber bottoms. But with that said, it's always a good idea to check the care tag for washing instructions. There are, of course, some slippers that are so fancy that they shouldn't be washed. We'll go over some tips and tricks for the fancy-slippered among us, but first let's get back to those hand washing instructions.
Hand washing is really pretty simple: Fill your kitchen sink/bathtub/a bucket/whatever is convenient with hot water and a dose of mild laundry detergent, swirl things about to make some suds, and then drop the slippers in. Agitate the slippers a bit so they become entirely saturated with the detergent solution and then just let 'em soak for a while so that all the grimy buildup is leached out. The wash water will turn a tremendously gross and satisfying shade of gray. At that point, go ahead and drain the dirty water and rinse the slippers well under running water. You can also do a double rinse cycle if you're feeling ambitious; that would involve refilling the sink with clean water and letting the slippers soak in that for ten or so minutes before draining the sink and doing a final rinse under running water. But that's not required. More like extra credit. Totally up to you.
The final step is drying, which is also pretty painless: While the slippers are still in the (drained) sink, press down firmly on them to extrude as much water as you can. Then grab a clean towel, place one slipper down, roll the towel over it, place the next slipper down, do the same thing with the towel and bear down with the weight of your body. That will press even more water out. From there you have two choices: You can either reshape them and let them air dry or you can turn the blow dryer on them. The blow dryer will help to fluff them back up if they're the kind of slippers that have furry interiors.
If you've got a pair of decorative slippers that can't be safely hand or machine washed, there are still some things you can do to extend their lifespan if they've taken on a stink. The first is to wipe the interiors out with a baby wipe. Baby wipes are great for cleaning items that you can't or won't submerge in water because they're low in moisture and are impregnated with a mild detergent that is safe on delicate fabrics (and delicate baby tushes). Then there are sneaker balls, which I cannot talk about without pausing to make a testicle joke because I am a child. A clean child! But a child nonetheless. Sneaker balls are basically spherical odor eaters and can be found on Amazon, or at most sporting goods stores. Just pop 'em into your slippers, or sneakers, or whatever footwear has gone rank and let them gobble away any and all smells.
These things also apply to your regular slips, and will help to keep them from getting to the stage where you're afraid to drape your beslippered feets over a dude's shoulders on a winter's night.
I'm sorry, did you think I was going to let that pass without comment?! Come now. You know me far better than that! Now the rest of you tell me where you're putting your beslippered feet because it is far more hilarious and delightful than talking about our smelly footwear.
I live Scandinavia and as such, I have a LOT of sweaters that get worn a LOT—and dry cleaning is horrifically expensive here. What is the best way to care for my favorite cashmere sweaters and my super-practical merino sweaters? What is the best washing/drying process? They both say 'dry clean only' but wool is washable, right? Also, the dry cleaning does nothing for the pilly cashmere and both wools get shiny elbows. What's the best way to get rid of the pills? And how do I rid myself of the shiny elbows that are a testament to my love of my favorite sweaters?
Sweet merciful Hestia, lady, you just asked, like, fifteen questions in one! But you know? They're all really good questions so I'm gonna go put a pot of coffee on to brew and then get cracking. I may or may not spike that coffee. It's the time of year for spiked coffee, don't you think? With what do you like best to spike your coffee? Why am I spending so much time talking about spiked coffee when there are so many sweater-care questions to answer? Why am I adding questions to the mix? I'll … stop now. Sorry. I spend a lot of time alone breathing in chemicals.
Washing Cashmere & Wool
Dry Cleaning
Dry cleaning is a perfectly fine option when it comes to caring for your sweaters. It's maybe not the best option, but it is perfectly fine!
Let's go through some of the pros and cons of dry cleaning, and certainly I would encourage you to add to this list if you have pros or cons you'd like to share with the class.
Some of the pros are: It's someone else's responsibility; garments may lose some of their softness when hand washed rather than dry cleaned; dry cleaning is far less likely to lead to shrinkage and/or color loss (though with hand washing, generally shrinkage and color loss are not extensive).
On the other hand are our cons: It can be harsh on fine fabrics, shortening the lifespan of the garment; it's not always effective when it comes to smell removal; it's expensive.
Hand Washing
Hand washing is hands down the best option for getting wool and cashmere sweaters clean, but it's also kind of a pain in the tush to do. I would not be a good friend and Clean Person if I didn't come, um, clean about that. So to speak. Mostly it's a pain because those sweaters are not as easy to manipulate as are other garments that you'd be likely to hand wash, such as bras. Or your favorite slippers! They're large, and then they're wet and large and dripping all over the place and then the house may wind up smelling of wet wool for a few hours and right. Basically we should all be sainted for hand washing our sweaters.