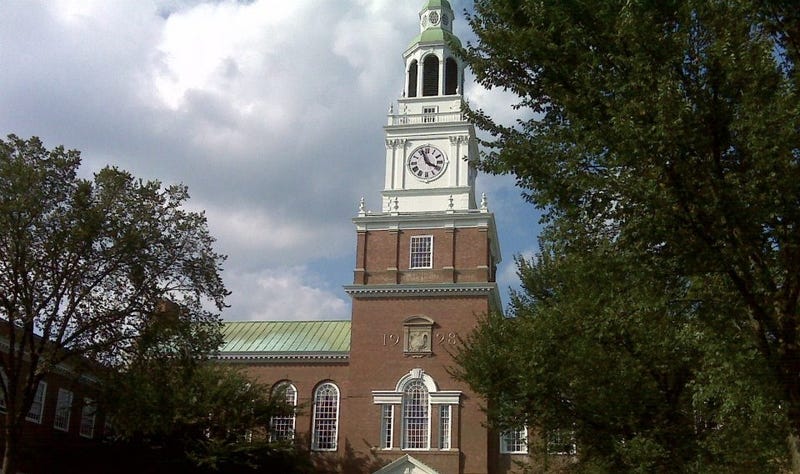 On Thursday, former Dartmouth College student Parker Gilbert was found not guilty of raping a fellow classmate in May of 2013, just a few days after the school sent out press releases touting their newfound "work on preventing sexual assault" during their "busy winter term."
Gilbert, class of 2016, was acquitted of "vaginal penetration through force, vaginal penetration through concealment or by the element of surprise before the alleged victim had an adequate chance to flee or resist, vaginal penetration when the alleged victim was physically helpless to resist because she was sleeping, vaginal penetration without free consent, anal penetration without free consent and criminal trespass," The Dartmouth reported. Gilbert, who was represented by a number of Dartmouth alums and whose grandfather was a professor at the school, has claimed that he had consensual sex with his accuser. "It was clumsy, awkward, drunk college sex," his lawyer said during the trial, the details of which have been meticulously reported by The Dartmouth.
His accuser told a different story. She described waking up in the middle of the night to find Gilbert raping her, even after she told him to stop. A female friend had spent the night and was sleeping in the same bed as her, but did not wake up during the alleged rape, apparently fast asleep due to a combination of anxiety medication and alcohol. Later, Gilbert sent an email to his accuser apologizing for what had happened, calling it "inappropriate," which assistant county prosecutor Paul Fitzgerald said was an attempt on his part to "reach out and try to shut her up."
This case is closed now. But for Dartmouth, it came to trial as an exceedingly bright spotlight was already shining on the school following the announcement last spring that they were being investigated by the Department of Education for Title IX violations. They're also dealing with the fall-out from a post on the campus website Bored at Baker that encouraged the rape of one of their students a few months ago. (An op-ed on The Dartmouth suggests that there was plenty of vitriol towards the Gilbert's accuser posted on Bored at Baker as well.) A member of the Dartmouth community told Jezebel that it doesn't appear as if anything definitive has happened to the author of that post, explaining that as of the end of winter quarter two weeks ago, he was still on campus.