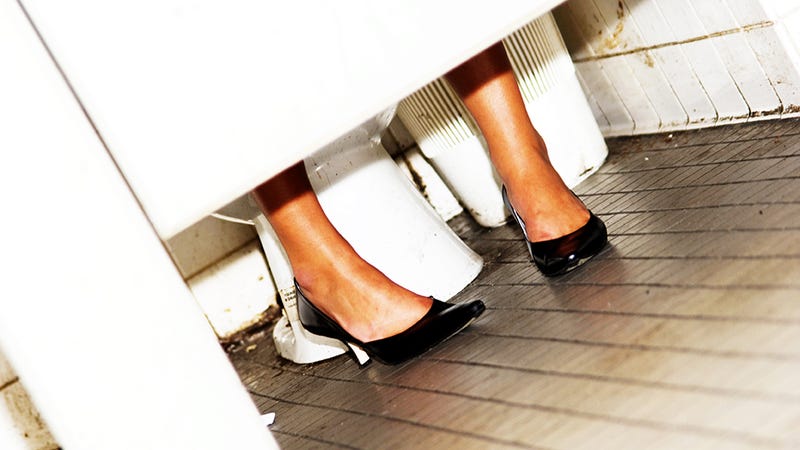 I'm not trying to stir up, er, poo, but I have to ask: How often do you really need to drop a deuce on a date? Isn't this precisely the sort of thing you would do before a date, like, as part of your whole getting ready for the date thing? Shit shower shave is not just for dudes, k? But a book out soon promises to illuminate the path of righteousness on exactly this matter. Should we call shit shenanigans?
The Book: How to Poo on a Date: The Lovers Guide to Toilet Etiquette
Release: May 14 (in the U.S.)
Its Purpose: "Not an instruction manual" but a "practical guide":
... toilet etiquett-sperts Mats & Enzo have turned their attention and extensive experience to what is surely one of the most important questions that has played on the mind of mankind for centuries: how to poo on a date. Not an instruction manual as the title might imply, this is a practical guide to confronting every possible problem or eventuality one may encounter when wooing. Inside you'll learn exactly what to do (through explanatory text and useful diagrams) in a variety of practical, real-life situations, from feeling the call of nature as you walk in the woods with your paramour to what to do if you block her toilet with a monster mud-out.
Random Trivia: The book just won the Diagram Prize for "Oddest Book Title of the Year." The 36th annual Diagram Prize, to be exact. (Noteworthy: This board of judges loves some poo, because in 2012 the award went to Cooking With Poo, a Thai cookbook by a woman named Saiyuud Diwong, whose nickname happens to be "poo" which happens to mean "crab.")
But ok ok so let's back up here. Call me naïve, but I guess I just really thought everyone involved in a date at the very beginning would poo first or wait it out. Or do the other thing: Say you have to go to the bathroom and then go find one. I realize you can't always do that AT FIRST. I'm not saying it would never be embarrassing. Just that it's probably so rare that you're unlikely to deal with this a lot. Later on when you're hanging out and you're deeper into levels of intimacy, it'd be fine, right, or you could navigate that? It's just four weeks of dodging the deed 'til you're in the clear.