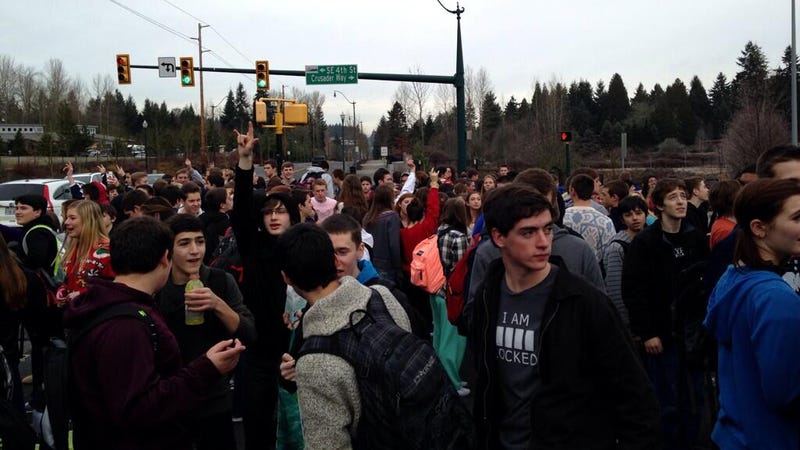 When students at Eastside Catholic High School in Sammamish, WA found out that their vice principal was being fired for marrying his same-sex partner, they rallied. Students walked out of class yesterday in protest, and today administrators cancelled school because of "snow." LOL, okay.
Vice principal Mark Zmuda was apparently terminated by the Archdiocese of Seattle after coworkers at the school tattled about his loving, consensual, adult relationship (WITH SATAN). Via the Seattle Times:
Mike Patterson, an attorney for the Archdiocese of Seattle and for Eastside Catholic, said the process that led to Zmuda's departure began about two weeks ago.

"We became aware of his same-sex marriage through some other employees at the school who indicated that he had related that to them," said Patterson.

Officials gave conflicting messages about the nature of Zmuda's departure, insisting that he had resigned even as the school, in a letter to parents, stated that his employment had been terminated because he violated his contract.

"He resigned," Patterson said Thursday afternoon. "I just spoke with him within the last two hours. He agrees he resigned."
Patterson says that the Archdiocese didn't issue explicit "instructions" to fire Zmuda, they simply sent a fucking lawyer to the school to meet with him and school president Sister Mary Tracy, where they "collaborated" on a discussion about the teachings of the church and how much gay marriage sucks. "It was just one of those situations where he knew...that he needed to comport with the [teachings] of the church, and his same-sex marriage was not comporting with that." Sounds like he really learned his lesson!
Then there's this bullshit:
Patterson said Zmuda's same-sex marriage, not the fact that he is gay, is the reason he cannot work for the school.

"He's a great administrator," Patterson said.

"We fully support him. We're going to give him glowing reference letters, all that sort of thing. But Eastside Catholic doesn't have the power to change that law," Patterson said, referring to church teachings.
So you can BE gay, you just can't DO GAY. Oh, just fuck you disingenuous ass-bags. I don't even have the time.