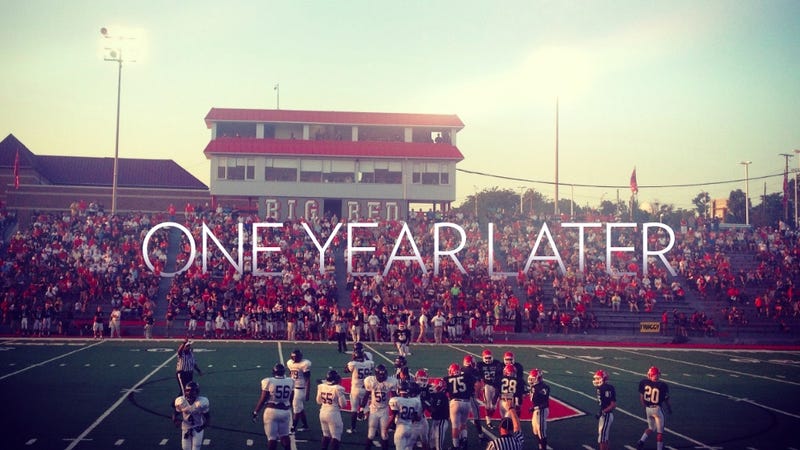 A few hours before Steubenville High School's first football game of the 2013 season, a six-year-old held my hand and showed me the two photos of cute teenage boys on her "big girl" bedroom walls: Justin Bieber and Cody Saltsman. She wore a tiny jersey with Cody's number—he's a senior wide receiver/defensive back for "Big Red," as the team is nicknamed—and a black and red hair bow. "When will we see cousin Cody?" she asked me every few minutes. Cody isn't really her cousin. But in Steubenville, Ohio, population 18,000, everyone knows everyone; it wouldn't be a stretch if he were.
If Saltsman's name sounds familiar, you probably followed the Steubenville rape case along with much of the country. Last August, former Big Red sophomore football players Trent Mays and Ma'lik Richmond were charged with kidnapping and raping a 16-year-old girl—Saltsman's ex-girlfriend—from a town across the river in West Virginia. The girl, who attended a private religious school but was friendly with the Big Red guys and had been frequently texting and tweeting with Mays, said she was so drunk she had no idea what happened that night until she saw kids gossiping about it on social media. Six days later, her parents filed charges, armed with texts, photos, and videos that appeared to offer a horrifying timeline of events. Nicole Lamantia, a 29-year-old fourth-generation Steubenville resident married to a Big Red football coach—their daughter is the Cody fangirl—said the town was appalled.
"Here's this story about a young girl who was kidnapped from a volleyball game, driven across state lines, drugged, stripped naked, repeatedly gang-raped, tossed in the trunk of a car, urinated on, defecated on, and left for dead in a field," said Lamantia, recounting initial reports. Internet vigilantes fueled the outrage by insisting the rape was orchestrated by Saltsman as revenge and covered up by town leaders to protect their Big Red superstars.
Although many of these claims were reported by countless mainstream media outlets, none of them turned out to be true.
Last March, Mays and Richmond were sentenced to a minimum of one year in a juvenile prison for penetrating the victim with their fingers, an act that constitutes rape in Ohio. Mays was given an additional year for photographing a minor naked. Both boys will have to register as sex offenders every six months for the next 20 years unless they can prove they deserve otherwise.
The web's citizen detectives and truth crusaders didn't uncover any evidence that escaped the police's attention, but they did launch a national conversation about sexual consent and entitlement. Does it matter if that greater good was partially based on headline-grabbing speculation?
Before I spent the last week of August in Steubenville, I only cared about the guilty verdict, which confirmed that two boys had raped a drunk girl and that three more, who were granted immunity to testify, had recorded and joked about the assault instead of reporting it. I criticized pundits who harped on the case's details and mocked locals who defended themselves instead of acknowledging the role they played in contributing to rape culture, like the mother who told Dr. Phil that her son, a Big Red player who wasn't involved in the rape, was "victimized" and Saltsman's family, which sued anonymous internet commenters for defaming their "sincerely" apologetic son.