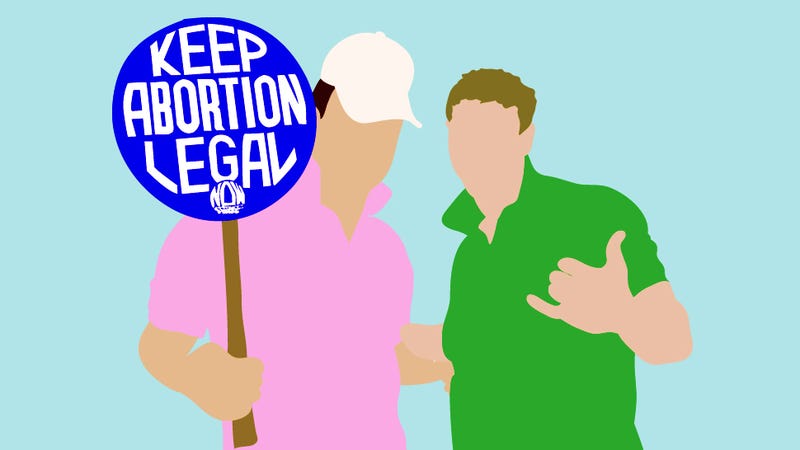 Earlier this year, Choice USA launched a "Bro-Choice" campaign to encourage men to speak out against reproductive injustice. Cut to hordes of conservative bloggers lambasting an imaginary douche collective of "horny young men who think 'women's right to choose' translates to 'men's right to use.'" Uh, what? Here's how your bullshit right-wing outrage sausage (bro-sauge?) gets made.
In April, Choice USA emailed me about a new campaign called "Bro-Choice" that "specifically targets men to become stakeholders and true advocates for reproductive justice." According to Kierra Johnson, Choice USA Executive Director, the program was devised last year by students "as a series of panels to talk about engaging men in reproductive rights and the challenges of that;" since then, it had evolved into "a broader conversation about masculinity and sexual assault." Choice USA hosted a week "of visibility around masculinity and rape culture," posted a series of topical blog articles, hosted a twitter chat, and collected Bro-Choice pledges at college campuses across the country. From the pledge:
LIVING BRO-CHOICE means having the courage to speak out against injustice, even at the risk of being alienated. It means creating broader, more equitable definitions of masculinity. Living Bro-Choice means being a vocal advocate for reproductive justice, and an authentic ally to women. Living Bro-Choice means being a part of the solution.
Alas, the pun, so full of potential, was bound to be co-opted, both by good — in December 2012, Sarah Silverman released a message to her "bros" called "Be Bro-Choice," in which she told dudes that "If anybody messed with you, bro, I'd be all over it" — and by evil.