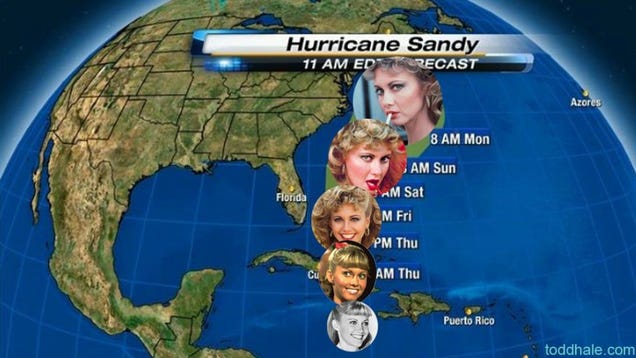 Hey, remember Hurricane Irene? Or that Polly-Pocket-sized New York earthquake that I completely didn't notice because I was too busy taking a shit? (That's true.) Sound the alarms, for the next natural disaster is upon us: the potential convergence of Hurricane Sandy with two other winds—one strong cold front from Canada and something from the West called a mid-latitude trough—which weather experts suggest might be as intense and destructive as 1991's Perfect Storm and hits us on Monday.
Sandy is a Cat. 1 Hurricane again. Cannot stress how dangerous and devastating this storm could be instagr.am/p/RSZEXVQCLF/

— Al Roker (@alroker) October 27, 2012
(Best dumb-funny response from one random Twiter user: @alroker must be one giant cat.)
More likely it will result in the same aimless, study hall-ish boredom that many New York residents can recall from Irene, but until then, Twitter is rife with #frankenstorm and #sandy hashtags as Northeastern Seaborders hunker down with an afghan and Instant Netflix. Some constructive things you can do with your time? Let's see.
Visit the addictive virtual makeover website Taaz.com and give yourself a horrific celebrity look, like "troglodyte Julia Roberts."
Sort through and throw out your grossest pairs of underwear.
If you have to brave the storm, pretend you're Catherine from Wuthering Heights rushing dramatically through the blustery moore, searching for Heathcliff, instead of a puffy-coated crone on the express line at Duane Reade with three impractical items (e.g. Frosted Flakes, Sutter Home, Tiger Beat).
Stormsex. (Note: All babies conceived during Frankenstorm will possess deity-like elemental powers.)
Gather three friends: "HAIL TO THE GUARDIANS OF THE WATCHTOWERS OF THE EAST."
Buy some cute but fucking overpriced but SO CUTE plates on the Internet.
Pray for Dourtney the dog.
Drink with your friend.
Fight with your friend.
Make up with your friend.
Get your period. Or don't.
Mature, slowly and imperceptibly.
Make the final decision on whether Kyle MacLachlan is sexy-weird or just weird.
Watch all of the BBC's underrated Pulling. This is serious. You need to do this.

Frankenstorm soundtrack suggestions:
"Shelter From The Storm," Bob Dylan
"The Hurricane," Bob Dylan
"Back Dat Azz Up," Juvenile

Image via Todd Hale