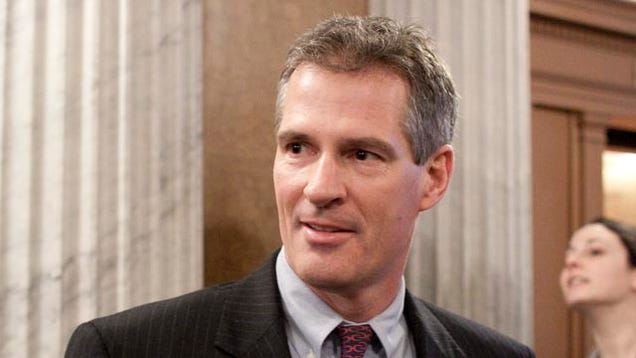 In a story that highlights why many people choose to never publicly admit that they were abused, Massachusetts Senator Scott Brown's step-father Frank "Larry" McShane said in an interview with The Boston Globe that the chapter about him in Brown's memoir is, "90 percent lies or mistruths.''
In Against All Odds, Brown writes that in addition to being sexually molested by a camp counselor, he was frequently beaten by McShane and other step-fathers. McShane, who is 74 and undergoing chemotherapy for cancer, told the paper:
"He says I beat everybody up . . . his mother, his sister, the dog ... It never took place ... I never hit anybody.''
He added, "He's looking for the sympathy vote."
McShane has never been charged with assault, but yesterday Brown's mother and sister defended his claims in their first interview since the book was published. His 72-year-old mother Judith Brown said her marriage to McShane was a "horror show," and added that the book was "painful to read ... All this brings up a lot of bad memories.''
Brown's sister Leann Riley said McShane was a violent alcoholic who terrorized the family. She described him throwing her against a wall and beating her mother. "As a child it was scary to live there because you never knew when the violence would erupt,'' she said.
Brown released a statement yesterday, saying:
My mother, sister and I are not surprised that Larry is denying the violence and physical abuse. But we have worked hard to move past those difficult times of our lives. We aren't out to settle any scores. Like most families, we are a work in progress and we are very proud of the family we are today.
While working on Captol Hill today, Brown was asked to comment again by CBS News:
Click to view

As we discussed
earlier
, Scott Brown has already faced a backlash for discussing the abuse he suffered in his memoir. While he
is
looking to profit politically and financially from the book, he didn't need to open up about this part of his past to gain popularity, and it's unclear if it hurts or helps his career. In addition to opening him up to attacks from strangers who question his story, now years later, Brown has to challenge his step-father's again in public. Even though he and his family say they've moved on, they still have to deal with the consequences of refusing to remain silent.
Brown's Mother, Sister Defend Book
[The Boston Globe]
Scott Brown Responds To Stepfather — "We've Moved On"
[CBS News]
Earlier:
Senator Scott Brown Reveals He Was Beaten & Sexually Abused As A Child
After Scott Brow's Sexual Abuse Revelation, The Inevitable Victim Blaming