The 60 Minutes interview in which Senator Scott Brown revealed he was abused as a child aired in full tonight, and he's already experiencing a backlash. While many praised Brown for sharing his story, some are calling him a hypocrite for refusing to prosecute his attacker and supporting a politician accused of turning a blind eye to the sexual assault of teen girls.
On Wednesday, 60 Minutes released a preview clip in which Brown discussed being beaten by several step-fathers and sexually molested by a camp counselor. In response, law enforcement officials and the operators of the Sandwich, Massachusetts religious camp publicly offered to help Brown if he wanted to press charges against his abuser, The Boston Globe reports. Brown declined their offer, and on Friday night he released this statement:
"I wish I had said something 40 years ago when these events occurred, but I was scared and embarrassed ... I want to be clear that the reason I write about these incidents in my book is not to settle any scores, but to let people know they can overcome the obstacles and hardships they face in life ... If by opening up about what happened to me I've given others the courage to talk about their own abuse, or just comforted someone who felt alone, then I feel I've accomplished something important.''
Cape and Islands District Attorney Michael O'Keefe said after speaking to Brown that he'd agreed not to open an investigation. He added,
"There are many people like the senator who don't want to pursue it further than the cathartic experience of revealing it. He has assured me that that's the way he feels.''
G/O Media may get a commission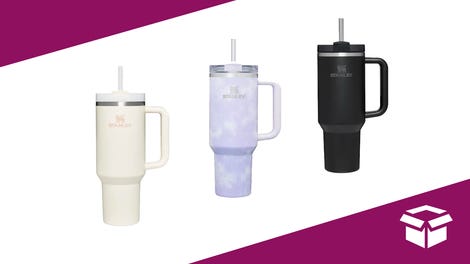 Up to 45% off
Stanley Cup Sale
While Brown was publicly praised by many for having the courage to come forward with his story, nearly every article posted online about his refusal to prosecute his abuser features comments criticizing his decision, and even accusing him of making up the story to publicize his book. For example, after one post on George Stephanopoulos' ABC News blog, his claims are called "fishy," and one person declares, "He obviously has no shame because he is openly talking about it and yet refuses to do anything about it and protect other children." Another says:
"I have a hard time believing this man. Why would he not pursue charges? Is he willing to allow these people to continue to be able to harm other children. We need to remember that old men too can harm children. If these people really exist then the need to be charged. Otherwise I think Brown is just looking for attention."
Perhaps it isn't so shocking that internet commenters are failing to grasp why Brown wouldn't want to go through the difficult process of prosecuting his abuser 40 years after the crime occurred. However, journalists are also attacking Brown, albeit over a different issue.
This weekend, editorials in both the Globe and the Boston Herald criticized Brown for defending Republican congressional candidate Jeff Perry in the last election, when he was accused of standing by while two girls were sexually assaulted. Wikipedia has a full run down of the incidents, which took place in the early 1990s. Basically, while Perry was a Wareham police sergeant, an officer under his command was accused of illegally strip searching two girls, ages 14 and 16. During one assault, Perry wasn't present, and during the other incident he said he didn't see what was happening. Perry defended the other officer until he eventually pled guilty. During last year's election, one of the victims came forward and said Perry, "had to hear me screaming and crying. Instead of helping me, Jeff Perry denied anything happened."
Today in the Globe, columnist Joan Vennochi writes,
"...how could Brown endorse Jeff Perry, the Republican congressional candidate, who, in 1991, allegedly stood by as a 14-year-old girl was sexually assaulted by a fellow police officer?"
According to Herald write Peter Gelzinis, Brown said at a fundraiser last year "Voters don't want to hear about this [the sexual abuse incident] ... They want to get back to the issues." (It seems voters may have cared, as they didn't elect Perry.) Gelzinis says:
"In a year when Scott Brown's rise has become the stuff of legend, when many profiles have already been written, it's curious that he waits until the eve of his national book tour to come forward and officially take his place among the community of sexual abuse victims."
It's definitely concerning that Brown (or anyone for that matter) would be so quick to dismiss abuse claims. However, it isn't entirely accurate to paint the Senator's support of Perry as a "gotcha" moment, and it certainly shouldn't cast doubt on Brown's own story. What Perry has been accused of is deplorable, but he was never actually found guilty of anything. Brown may truly believe that the man is innocent, and it's not as if he expressed support for a convicted molester.
Details of politicians' personal lives do become relevant when they're acting in a hypocritical fashion, like when various gay-bashing legislators turn out to be gay themselves. But even you disagree with most of Brown's political beliefs, he actually does have a history of supporting the rights of sexual abuse survivors. From the Globe editorial:
Five years ago, Brown was among supporters of a state bill that extended the period of time in which a victim of sex abuse could file charges against a perpetrator. He called sexual abuse the "number one public safety issue affecting us here in the Commonwealth,'' according to the State House News Service. He also cosponsored a federal bill that would limit the ability of those convicted of sex abuse from working in a variety of settings. When Brown was running for US Senate, he and Democratic opponent Martha Coakley said they would ask Cardinal Sean P. O'Malley to release the names of all priests in the archdiocese who were credibly accused of sexual abuse. (Only one legislator, former state senator Marian Walsh, called for Cardinal Bernard F. Law to be prosecuted when the clergy abuse scandal rocked the Boston Archdiocese.)
He may have made the wrong call by supporting Perry, and it's worth questioning that decision, but there is no long pattern of hypocritical behavior toward fellow survivors.
Brown is allowing his childhood abuse to be used to market his new book, but that doesn't invalidate his story. While the overall point of the memoir may be to win over voters, it's still Brown's chance to tell the story of his life and publicize who he is. He may have hoped that the abuse revelation would make him a more sympathetic character, but he also had to know that many people don't understand abuse. Some voters now see him as less of a man, question why he didn't come forward sooner, and insist that he's making the whole thing up. Brown's book would've sold well with or without the abuse story, and in light of all the unfair criticism, his decision to come forward seems even more admirable.
Camp, DA Reach Out To Brown On Abuse [The Boston Globe]
Scott Brown Won't Pursue Alleged Abuser [ABC News]
Jeff Perry [Wikipedia]
For Brown, A Perplexing Connection [Boston Globe]
Scott Brown Played Down Claims Of Victim
Earlier: Senator Scott Brown Reveals He Was Beaten & Sexually Abused As A Child