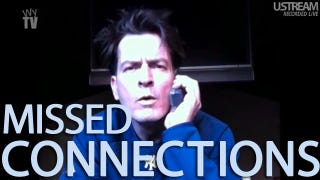 This weekend I found myself socializing with a group of close friends and colleagues, one of whom had Charlie Sheen's phone number. You know where this is going.
Through whatever strange channels, Deadspin had acquired Sheen's cell phone number. While obviously the friendly competition between websites in our company dictated that those digits would not be shared with me, it didn't stop a mutual friend from grabbing the number and scampering off to a quiet place where she could call. Because, apparently, we're a bunch of fifth graders.
My friend, calling from her phone, turned on her speakerphone. The call went to his voicemail ("If you leave it, I'll retrieve it!"), and she froze — omgwhatdowedo! Was this really a question? I didn't think so, and in a slightly tipsy fit of immature braggadocio, I grabbed the phone and left a voicemail in my best take-me-home-to-meet-your-mom voice:
"Hi Charlie, my name is Jessica Coen. I heard Rachel left and that you may have a goddess opening at Sober Valley Ranch. I'd love to discuss that with you! My number is 646-xxx-xxxx."