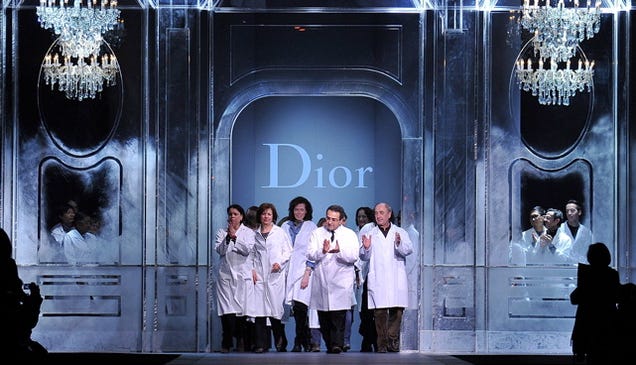 The Dior show just took place this afternoon in Paris. This season's Dior collection has, as one might expect, been completely overshadowed by the scandal surrounding now ex-Dior creative director John Galliano, who was arrested eight days ago for allegedly hurling a stream of racist and anti-Semitic invective at a couple of strangers in a bar. Following his arrest, Dior suspended Galliano from his job, and after another alleged victim came forward to make a similar police complaint, and especially after the notorious video of a drunken Galliano telling yet more strangers, "I love Hitler...people like you should be gassed" hit the Internet, the brand fired him. But the show must go on — and it did. [Previously, Previously]
Editors report that things began with Dior C.E.O. Sidney Toledano taking to the catwalk to deliver a speech to the crowd, in French. He mentioned the Holocaust and the "obligations of memory." (Toledano's own father, who was Jewish, was expelled from Vichy France during World War II. He was able to escape to Morocco, where Toledano was raised.) Karlie Kloss, the 18-year-old supermodel from St. Louis who is currently the face of Dior, opened the show. The collection featured looks with capes, looks involving ombré chiffon, and a parade of lingerie-inspired dresses that, to several observers, seemed "quintessential Galliano." There were also lots of accessories and bags. Afterwards, the seamstresses and assistant designers of the house — about 40 people in all — took to the catwalk to take the final bow, which many observers found moving. The audience gave a standing ovation. [Twitter]
After the show, the crowd of people and reporters outside was so large, that French police decided to close down the street in front of the venue, the Musée Rodin. Also, there was this dude, protesting in furs and leopard-print platform boots, with a sign that read "The King Is Dead." School children begged departing guests for their invitations as souvenirs. British Vogue obliged. [Twitter]
Cathy Horyn has just blogged about the show — she puts the crowd outside the venue at over 300 people, including police. From Toledano's speech: "It has been deeply painful to see the Dior name associated with the disgraceful statements attributed to its designer, however brilliant he may be. Such statements are intolerable because of our collective duty to never forget the Holocaust and its victims, and because of the respect for human dignity that is owed to each person and to all peoples." [On The Runway]
Rumor (still) has it that Givenchy creative director Riccardo Tisci is favored to replace Galliano at Dior. [Vogue UK]
Meanwhile, John Galliano has confirmed, through a spokesperson, that his namesake line — which Dior's parent company backed, and which may not survive because it is not believed to be profitable — will be shown privately to editors on Sunday, not via a runway show, and that Galliano will not be in attendance. [Vogue UK]
In an unusually rambling piece for Salon, Times retail critic Cintra Wilson explains how she "saw foreshadowings of [Galliano's] meltdown." Say what? People, Cintra Wilson is such an exceptional reader of fashion, she could tell from the clothes that Galliano had some Nazi tendencies. "I trashed the new Dior collection. I have been a longtime Galliano fan, but I felt his new designs were cynical, weak and irresponsibly barbarous. Because I have spent several years translating fashion statements into English, I could literally read from the clothes that John Galliano was in a deeply miserable place." [Salon]
In other news of fashion designers and erratic behavior, Balmain's Christophe Decarnin failed to take the stage for a bow following his show yesterday — in fact, he wasn't even in the building. His C.E.O. claimed, unconvincingly, that Decarnin was "sleeping." This immediately spurred a rumor that Decarnin had, in fact, suffered a "nervous breakdown" in January, and since been under in-patient psychiatric treatment. Women's Wear Daily reports that Decarnin was "absent under doctor's orders, after having recently been released from the hospital, where he was said to have been treated for depression." [WWD, Hint, Telegraph]
---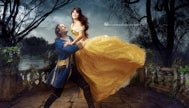 Annie Leibovitz
shot another of those Photoshop-heavy
Disney campaigns
where celebrities pretend to be characters in classic movies. This should help with the whole
bankruptcy
situation. [
PopEater
]
---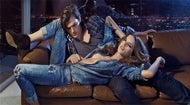 Here is
Ashton Kutcher
, giving
Alessandra Ambrosio
a surprise bellybutton inspection. The photo is part of a campaign for the Brazilian brand Colcci. [
TLF
]
Also doing campaigns in Brazil?
Paris Hilton
. [
Racked
]
---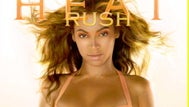 Beyoncé
gave an interview to
Teen Vogue
on the occasion of the release of her Heat Rush scent, which was created in a boring motel conference room. And:
"My best rule for any hair type, do not do your own color."
Sorry,
L'Oréal Feria
! [
Teen Vogue
]
---