Longtime Christian Dior creative director John Galliano was arrested in Paris last night, following an altercation with a couple in a café. Witnesses and the French police attest that the designer had been drinking heavily. Dior — which had planned its fall show, a traditional highlight of the fashion season, for March 4 — has announced that it has suspended its head designer, pending the outcome of the police investigation.
UPDATE: According to someone claiming to be an eye-witness, the incident occurred after the alleged victims mistook the "pretty drunk" Galliano for a homeless person, and insulted him when he tried to strike up a conversation. Galliano at first just said, "Cheers, everybody!" but further words were exchanged, until the designer turned back to tell the woman, "You're ugly and your fucking bag is ugly, too!"
The boyfriend of the women then got up from his chair and aggressively charged it to threaten the designer. Galliano's bodyguard tried to quiet the situation, as did the staff from La Perle, but there was nothing more to do; Galliano and the couple exchanged further insults untill [sic] the couple called the police while Galliano calmed down and was peacefully smoking his cigarette.

The end of the story, far less dramatic [than] the the press reported, the police just talked to the designer while his bodyguard was on the phone with his lawyer and Galliano conceded to go with them to the police headquarters to give his version of the story, since the couple wanted to press charges. No big police arrest took place. As for the anti-Semistic [sic] statements, Galliano did call the man who threatened him with a chair "Asian," which is indeed a racist statement.
Galliano was at a café/bar called La Perle, which is popular with fashion industry types, and is located in the Marais. The Marais is a traditionally Jewish sector of downtown Paris which is now extremely hip; falafel joints and Jewish bakeries co-exist with trendy brunch spots, a large gay community, and many second-hand stores. (One street in the Marais, the Rue des Francs Bourgeois, is lined with boutiques that open on Sundays, a rare exception to Paris's strict retail blue laws.) La Perle is about two blocks from Paris's Museum of Jewish Art and History.
On La Perle's covered terrace, Galliano allegedly launched an attack on a couple who were seated near him. Witnesses called the police, and the Telegraph reports:
A police source said: "We arrived extremely quickly and managed to break up the disturbance. The man involved was briefly arrested and then released pending charges for assault.

"Witnesses said he swore heavily, using anti-Jewish insults, before attacking a couple. Both have provided witness statements, as have a number of other people at the bar, including staff."

The source confirmed that Galliano, who has been chief designer at Christian Dior since 1996, was the only person arrested in connection with the incident.
G/O Media may get a commission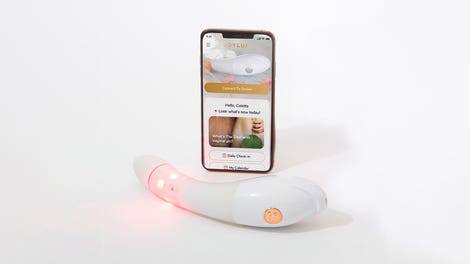 $50 Off
Joylux vFit Gold Device
At the station, Galliano was found to be drunk. He was later released, but police confirm that he will face criminal charges. The exact nature of what Galliano is alleged to have said is not publicly known at this time. Meanwhile, British Vogue talked to an eye-witness, who offers the following description of the events:
"We had a table at La Perle and John Galliano sat next to us. He spoke to a couple at a nearby table to say 'Cheers' and they insulted him. An argument started and the police came, so Galliano's bodyguard suggested that they should go to the police station to sort it out. He wasn't 'busted' aggressively by police, it was very quiet and peaceful. I definitely didn't hear him say anything anti-Semitic, or against any religion, it was all very calm."
"Dior affirms with the utmost conviction its policy of zero tolerance towards any anti-Semitic or racist words or behaviour," read a statement from Dior C.E.O. Sidney Toledano, who is himself Jewish (Toledano's father fought against Franco in the Spanish Civil War, before being expelled as a Jew from Vichy France). "Pending the results of the inquiry, Christian Dior has suspended John Galliano from his responsibilities." Galliano's lawyer told the Agence France-Press that the designer "formally denies the accusations of anti-Semitism made against him."

John Galliano Suspended By Dior Following Arrest For "Anti-Semitic Rant" [Telegraph]
John Galliano Arrested In Paris For Assault [Vogue UK]
Designer Galliano Held In Paris For "Anti-Semitism" [AFP]