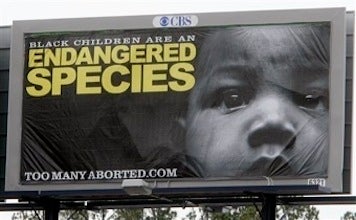 Rick Santorum recently said he found it "almost remarkable for a black man" to be pro-choice. The anti-choice linking of abortion, slavery, and genocide has always involved a cocktail of distortion and condescension. So what to do about it?
The increasingly popular rhetoric among anti-abortion activists boils down to this: Abortion is like slavery, because slaves were dehumanized. (Read Ta-Nehisi Coates brilliantly take down this solipsism, and then again today.) Abortion providers are racist and want there to be fewer black children in the world. And so on.
For the past few years, the pro-choice community has been fighting this propaganda with facts (which we've covered here, here, and here), but the message is still getting through.