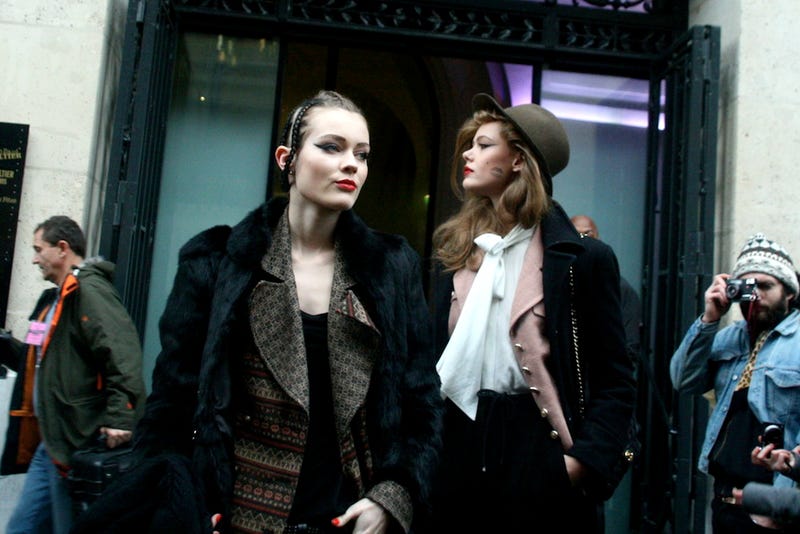 Nilina Mason-Campbell ran around Paris to get a fresh look at couture. Not the runway-shot, brand-manicured take we always get. The street-skulking, exhilarating flash-and-grab honesty of the perennial non-ticket-holder! (It's not our fault we don't know any PRs in Paris.)
So, like, being on the guest list is so over-rated anyway when you can still get shots like this, of Polish model Monika "Jac" Jagaciak and Swede Frida Gustavsson outside the Gaultier show.
The scene outside Jean-Paul Gaultier. The line for invitees stretched down the block, while on the opposite side of the street, a crowd formed to watch the proceedings.


Some peace protesters took advantage of the built-in audience to stage this demonstration.


Inside, Polish model Monika "Jac" Jagaciak carries a little numbered card as she walks down the runway, in the style of the old mannequins de cabine.
Photo via Getty


There was a can-can dancer.
Photo via Getty


And the collection was beautiful — in the most warrior-woman, 1940s mohawk, ruffled corset, mixed-up kind of way.
Photo via Getty


Croatian model Kristina Salinovic after the show.


Tunisian model Hana Ben Abdesslem poses for the street style photographers.


Fashion editor Diane Pernet, dressed in her usual fashion.


Swede Frida Gustavsson is 17, and has been modeling since 2008.


Puerto Rican model Joan Smalls, the depositor of that cheek-kiss. Nilina says, "The photogs were going CRAZY over Frida and Jac and so after she exited the building, she ran to the back of the photographers' pack with her own camera and started screaming demands at Frida and Jac, who obliged with more poses. The photographers ate those up and then turned their attention to her."


Australian model Andrej Pejic closed the show, dressed in a wedding gown. Pejic is famously androgynous — he is often compared to Karolina Kurkova, with whom he stars in Gaultier's current campaign — and the photographers addressed him as "mademoiselle" when they asked him to stop for a shot. Pejic obliged.


An editor tries to make a call.


Elie Saab showed a collection filled with his staple — really beautiful eveningwear, especially featuring sheer panels and overlays. He limited his colors to black, cream, mustard yellow, and bright red. Most of the dresses were styled with little ribbon belts.
Photo via Getty


Any one of these dresses would look at home on the red carpet. Perhaps with a few minor adjustments to avoid, you know, celebrity crotch-exposure.
Photo via Getty


John Galliano's René-Gruau-inspired Christian Dior collection, as we already know, was completely gorgeous. (And incredibly technically impressive.)