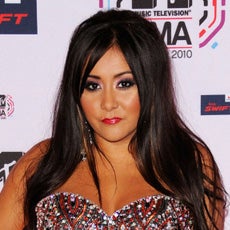 Amidst the pages of boozing, fist-pumping, and partying in Snooki's first novel—A Shore Thing—is an alarming scene involving Bella (cousin of the main character Gia) and some preppy assholes. Check out the excerpt after the jump.
So here's the setup: Gia (a fictionalized version of Snooki) and her cousin Bella are hanging out at the Jersey shore for the summer, working in a tanning salon called Tantastic. Although they spend their downtime on the hunt for "gorilla juiceheads," Bella agrees to go on a date with someone who isn't her type: A preppy named Bender. He takes her to a fancy restaurant (probably the kind with cloth napkins) and pays for an expensive meal and a bottle of champagne. While on the date, Bender starts laying it on thick, but Bella still doesn't find herself attracted to him.
No matter how hard she tried, Bella couldn't convince herself to have sex with Bender. But if she told him that, she'd hurt his feelings. And probably make him angry, considering how much he'd spent on her. Bella already felt guilty about it.
Then Bender starts coughing and tells her he has a rare blood disease called "hemotitis" and only has two months to live. With that information and enough champagne bubbling in her brain, she decides to accept an invitation to his house.
Bender has a roommate named Ed who sounds like a creep. The two guys have developed some kind of weird rape lair at their shore house, equipped with a video surveillance system that includes cameras in every room (including on the roof deck overlooking the hot tub), that they utilize to watch each other fuck "bimbos" they bring home, even though Ed—who likes watching his friend rape girls—always secretly hopes that Bender fails. Not because it would be better for the girl, but because it makes Ed feel like he's a better player than his friend. This is where it gets creepier—the "preppy" description aside, the entire scenario sounds eerily like an exaggerated version of what we've seen played out on Jersey Shore with The Situation and Pauly D, particularly in regards to their aggressive strategy of taking girls home to the hot tub.