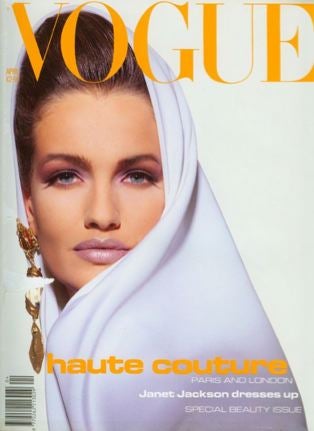 The news that '90s supermodel Karen Mulder was arrested in Paris for making death threats to her plastic surgeon could be written off as, at worst, a punchline, or at best, the latest expression of an unbalanced woman's erratic behavior.
Karen Mulder was a blonde 5'10" Dutch teenager who shot to fame after a friend sent in pictures of her to the Elite agency's famous Elite Model Look competition. Within two years, Mulder had given up high school to work full-time for clients like Valentino, Giorgio Armani, Calvin Klein, Yves Saint Laurent, and Versace. She made the covers of British Vogue, Italian Vogue, and various international editions of Elle, among many other magazines. At 21, she bagged a multimillion-dollar multiyear contract with Guess? She was picked as one of Peter Lindbergh's iconic gaggle of leather-clad biker supermodels in American Vogue in 1991, when DUMBO was still thought of as a little dangerous.
That's Mulder second from the right, between Stephanie Seymour and Naomi Campbell. Her career, still managed by Elite, flourished through the 1990s. Mulder capitalized on her wholesome look with commercial gigs, like her two appearances in Sports Illustrated's Swimsuit Edition, and she became a Victoria's Secret model. There was a Karen Mulder doll, made by Hasbro. Mulder dated a racecar driver, she dated Prince Albert II of Monaco, she dated a real-estate developer named Jean-Yves Le Fur. They broke up, but it was still Le Fur who picked her up off the floor of her Paris apartment and called the ambulance in the winter of 2002, after Mulder attempted suicide by overdosing on pain pills.
The suicide attempt and the coma she would lie in for two days following it came after Mulder had told the press, "From the beginning, I hated being photographed. For me, it was just an assumed role, and in the end, I didn't know who I really was as a person. Everybody was saying to me, 'Hi, you're fantastic.' But inside, I felt worse from day to day." It came after she laid a formal rape complaint in France against Prince Albert. It came after she said, "My job distracted me from my worries. It enabled me not to be myself, to pretend I was someone else." It came after a notorious appearance on French television where her various claims — that men at Elite had raped her, that she had been coerced into having sex to garner better contracts, that Elite had used her and other models as sex slaves in a ring that extended through the top echelons of French society, implicating politicians, members of the police, and other top officials, that her own father had raped her, that she had been sexually abused by a family friend from the age of 2, that she had been hypnotized and raped, kidnapped and raped, and raped some more — were regarded as so potentially libelous that France 2 not only never aired the segment, but destroyed the master tape. No matter: In a series of more-or-less coherent magazine interviews, Mulder repeated most of her accusations, and added that her agency had encouraged her to use cocaine and heroin. She told the Daily Mail, "They tried to turn me into a prostitute because they thought it would be so easy. I was raped by two bookers. I reported them and they were fired. Another time I was shut in the office of [a high-profile man from the modeling world] for a whole day. All these people who betrayed me I used to love very much. Then I realized how big the conspiracy was. It brought in the government and police, who both used Elite girls. People have tried to kidnap and poison me."
Her suicide attempt came after she was packed off to Montsouris hospital and heavily sedated for five months of treatment for depression and anxiety. (Gerald Marie, the head of Elite Paris and one of the men Mulder had accused of raping her, paid.) It came after Marie was filmed on hidden camera by the BBC trying to give a 15-year-old model £300 for sex, and bragging of how many entrants to the Elite Model Look competition — average age 15 — he was going to sleep with that year. It came after Mulder's attempt at a crossover music career resulted in the release of a cover of "I Am What I Am", which peaked at number 13 on the French pop charts in the summer of 2002. It was after recanting all her rape accusations, and explaining that she was in fact dealing with the aftermath of childhood sexual abuse and had "gone overboard," that the former supermodel tried to kill herself. Since emerging from hospital, and until her arrest yesterday, Mulder has kept a low profile.
How a woman like Mulder, one of those people who journalists are always quick to say "has it all," could fall so far, so fast is not really the question that commands interest here. We all know this story: it's got drugs in it, and predatory older men, and very young women, and the abject self-consciousness of the individual whose worth is in her pictures. It's always more or less the same story, even if Mulder, with her recantations and paranoid stories of kidnapping and poison at the hands of a shadowy "they," isn't always its most credible narrator. It's the story of Wallis Franken, of Ruslana Korshunova, of Katoucha Niane.