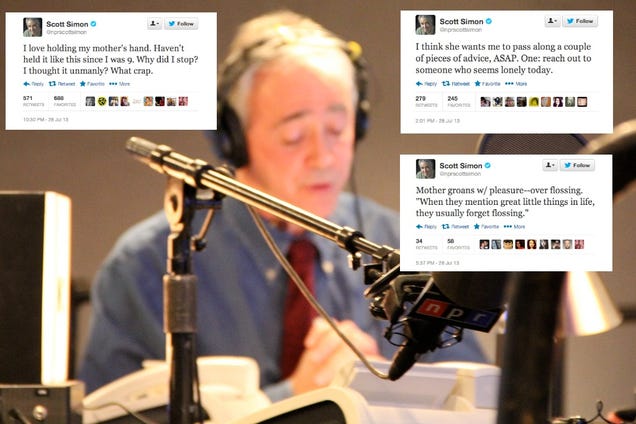 People who grew up listening to public radio are a rare breed, in that they're obsessed with "their" radio hosts. Ask anyone in radio about the responses they get when people figure out who they are in public and they'll tell you stories of people freaking out upon meeting them –which is especially funny, given that most of the people coming up to them have only heard their voice before. So given what we know about radio listeners, the emotional response that NPR Weekend Edition host Scott Simon has gotten over the past couple weeks as he's been live-tweeting his mother's hospital stay is less than surprising.
Simon's mother Pat Simon Newman Gilband went into a Chicago hospital on July 16; he says she told him "I can't talk. I'm surrounded by handsome men":
Mother called: "I can't talk. I'm surrounded by handsome men." Emergency surgery. If you can hold a thought for her now...

— Scott Simon (@nprscottsimon) July 16, 2013
Spending time with his mother in the hospital Simon has reflected on everything from the sad state of medical care in America ("Heard from many docs & nurses that they have too many clerical chores to pay attention they'd like to patients. That's like farmers who would say he has to fill out too many USDA forms to grow anything.") to the grace he's seen from his mom to what he's learned from her. She is very funny:
I consider this a good sign: mother sez when time comes, obit headline should be Three Jewish Husbands, But No Guilt.

— Scott Simon (@nprscottsimon) July 27, 2013
He's gotten the attention of many including Wait, Wait....Don't Tell Me! host Peter Sagal, who wrote:
I had a tough weekend dealing with my own family tragedies, and found great comfort in reading @nprscottsimon as he deals with his.

— Peter Sagal (@petersagal) July 29, 2013
I am not sure my mother understands Twitter or why I tell her millions of people love her—but she says she's ver touched.

— Scott Simon (@nprscottsimon) July 28, 2013
Gillband – who you can hear in her own words in this StoryCorps story from a few years back – is full of wisdom, so follow along here.
I know end might be near as this is only day of my adulthood I've seen my mother and she hasn't asked, "Why that shirt?"

— Scott Simon (@nprscottsimon) July 29, 2013
Image via Alyson Hurt/Flickr