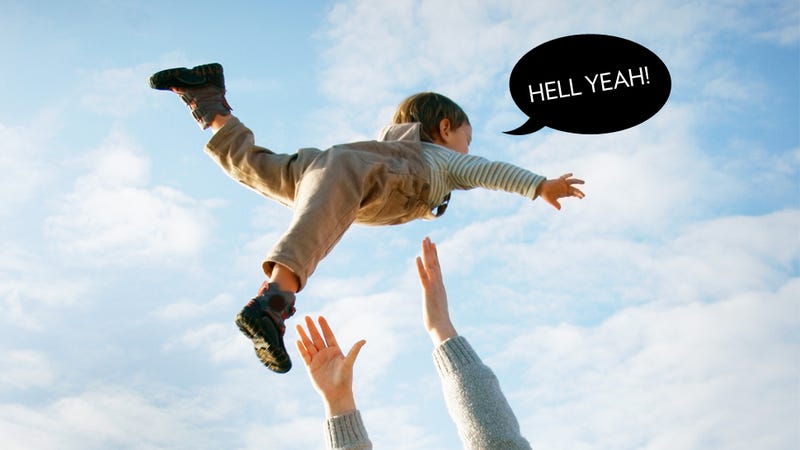 Hi, woman-person here. I like swearing. It's fun. This has, throughout my life, been regarded often enough as something unladylike. Then I had a baby, and out with my placenta I released a lifetime's worth of bad habits, lest the child take after such an uncouth specimen. Or, rather, that's what I was supposed to do.
Now, if I keep cursing I'm not just an offending woman — I'm an offending enforcer of the cultural code. Mon dieu!
Look, there's lots of important stuff you have to teach a kid not to do: not to hit, not to bite, not to put things up their nose or talk about poopie too much. But if your kid runs around biting and poopie talking, people would be far more inclined to look the other way. If you have a 3-year-old who says motherfucker, you'll have some explaining to do.
Because cursing is still seen as a marker of class and refinement, and as such, an easy shorthand for people to distinguish children raised by parents who understand the value of presenting well, versus people raising scavenging animals.
In an essay over at Salon, a woman struggles with her love for profanity and the sinking recognition that now her 6-year-old says things like, "This fucking pencil won't work."
With the exception of an occasional "What the hell?" or "Dammit!" my swearing isn't about them, or directed at them. But I do curse around them quite a bit, more than I should if their recent forays into profanity are any indication.

"Sonofabitch!" my 6-year-old daughter exclaimed last week when she spilled her juice cup.

I dropped my head in my hands as my husband asked, "What did you expect, sailor mouth? They're not deaf. Keep it up and the baby's first sentence will be 'Holy fucking shit.'"
I sympathize. I was never rocking it at the cocksucker-levels she explains in her essay, but I used to swear more just after I had a kid. Once my kid showed a real grasp of language (she is 3 and has never uttered a swear word — at least, not yet), though, I have worked diligently to stop. (I've been somewhat successful).