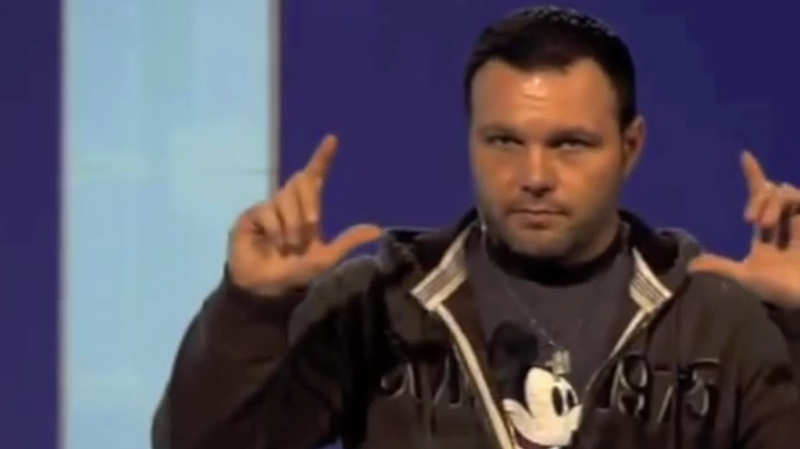 I wouldn't normally give extra attention to preening alpha evangedouche Mark Driscoll, but he seems to be popping up more and more in my mainstream feeds lately. His existence is not news, but if people are going to know who this guy is, I want to make sure they know who this guy is. The Seattle-based mega-pastor has turned "cool" Christianity into a thriving brand, luring new parishioners with his salt-and-pepper fauxhawk (I KNOW), phat sound system, and willingness to use phrases like "phat sound system" with a straight face. That marketability has landed him a bunch of book deals, nearly half a million Twitter followers, and the chance to get his butthole caressed on Fox and Friends. Oh, and he also bullies effeminate men for fun, thinks divorce is the fault of ugly wives riddled with sex demons, and requires congregants to sign a covenant vowing to abstain from "homosexuality, pornography, and fornication."
Bitch summed it up tidily in this 2012 article:
The church's blend of pop culture and strict Calvinist doctrine allows congregants to occupy a unique, rebellious niche between middle-aged conservative Christians and their secular liberal contemporaries. Mars Hill members talk about sex, drink alcohol, get tattoos, and swear. They listen to Fleet Foxes; they love Star Wars and graffiti art. They also believe homosexuality is a sin, men are meant to lead, and wives must submit to their husbands as the church submits to God.
I don't blame young people for seeking a worship community that speaks to their demographics and aesthetics, but Driscoll's Mars Hill Church sells oppressive traditionalism dressed up in tattoos and hoodies. I don't think it's unreasonable to suggest that young Christians look for a church that fulfills their spiritual and social needs without making them complicit in misogyny and homophobia. If you're a socially liberal Christian, I don't know why you'd want to make such a massive and destructive compromise. I'd also wager that you're not as socially liberal as your vanity tells you.
Anyway, Driscoll's latest arrived in my inbox via Christian Nightmares—he's now palling around with Friend of Dorothy Glenn Beck on Beck's online talk show. The interview is, predictably, focused on men and men's problems and the importance of men and how men are our only hope of saving "Christiandom" [sic]. Driscoll admonishes his male flock for not bothering to "[take] a gal on a date, maybe to get a wife out of the deal"; parrots that old MRA talking point about how men do shitty in school; and adds that a lot of men don't bother getting driver's licenses because they'd rather "download porn on their phone while they're on their bus trip." (Quick Q: Whaaaaaaaat the fuck are you talking about. If you're trying to convince me that you have no idea how porno works, then NICELY PLAYED, DRISCOLL.)